When Steven Goodman, MD, a rheumatologist at Arthritis Associates of South Florida in Delray Beach, attended a user meeting for NextGen, the electronic health record (EHR) company, he caught a demonstration of a new tool that looked deceivingly low-tech.
You Might Also Like
Explore This Issue
October 2012
Also By This Author
At a glance, it looked like a pen and a piece of paper—your standard gear for patient questionnaires filled out in the waiting room before being called back for an office visit.
ADVERTISEMENT
SCROLL TO CONTINUE
But the pen is actually a mini-computer, called NextPen, with a digital camera on the end of it. It can identify that particular sheet of paper, which has a unique dot pattern that looks like light-gray shading, then store the information marked down on the paper. Then, when inserted into a dock, it can load that information straight onto a computer, where the dot pattern is linked to a patient, and then into that patient's EHR.
Dr. Goodman, who first saw the technology two years ago, was immediately enamored and wasted little time.
ADVERTISEMENT
SCROLL TO CONTINUE
"We preordered them before they were even available," he says. He has used it for about a year and a half.
Dr. Goodman says the technology has been well worth it, saving time in gathering patient's medical information, which streamlines office visits, and in converting long-time patients' demographic information to electronic form.
Making Their Mark
Digital pen technology for health records has been used in the United States since about 2005, with the market dominated by the Swiss-company Anoto, which developed the NextPen for use with the NextGen EHR system.
ADVERTISEMENT
SCROLL TO CONTINUE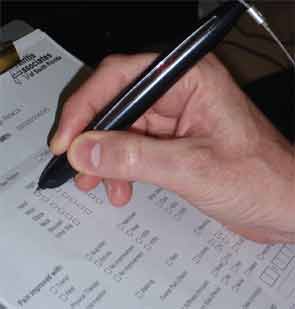 Patients fill out familiar forms with the NextPen, which digitizes the information.
The pens are making even more inroads lately as doctors' offices are moving to electronic records.
"We saw this as an opportunity to provide a solution to that problem and make it simple enough to capture that structured data that we could ease the transition to EMR," says Roy Feague, vice president of development at NextGen.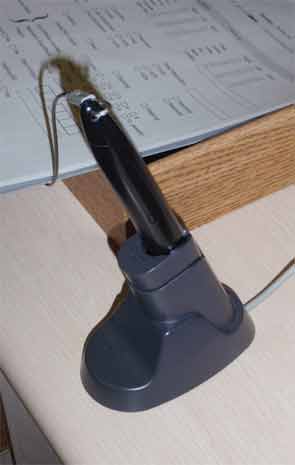 When the pen is placed in the dock, the patient's forms are uploaded to the EHR.
The Anoto pens, which go by many names, can be used with other EHR systems, but they are generally linked with the existing system through third-party companies. In the case of the NextPen version, the pen is designed specifically for use with the NextGen system so that a new interface doesn't have to be created for each new piece of data, which can come at a significant added expense, Feague says.