You Might Also Like
Explore This Issue
September 2013
Also By This Author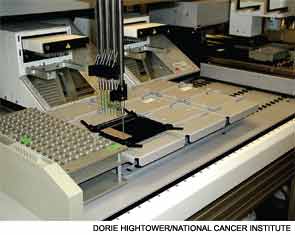 A TECAN Genesis 2000 robot preparing protein chips for proteomic pattern analysis.

MADRID—Finding better and better treatments for patients with rheumatic diseases is a task that is generating interest from a variety of domains, and experts in proteomics and genetics here at the European League Against Rheumatism (EULAR) 2013 Annual European Congress of Rheumatology, held June 12–15, said research in these areas is shedding new light on treatment strategies, with the potential for more breakthroughs ahead.
ADVERTISEMENT
SCROLL TO CONTINUE
Proteomic Technologies
The study of proteomics is becoming more robust in identifying proteins that can be used as biomarkers in osteoarthritis (OA), said Cristina Ruiz-Romero, PhD. Dr. Ruiz-Romero is a researcher with ProteoRed, a Spanish national network based in Madrid that is aimed at advancing the science of proteomics and promoting study and research in proteomics.
Analyses of proteins that are present in joint cells, cartilage, the synovial membrane, plasma, serum, and synovial fluid have been yielding success, with new proteins identified that weren't previously associated with OA.
ADVERTISEMENT
SCROLL TO CONTINUE
These proteins include retinol-binding protein 4 and proteoglycan 4 found in cartilage and OA serum; cartilage oligomeric matrix protein and lumican in cartilage, OA serum, and OA synovial fluid; and chitinase 3–like protein 1 in cartilage and OA synovial fluid, Dr. Ruiz-Romero said.
Proteomics, the simultaneous analysis of all proteins in a cell, tissue, or whatever specimen is being studied, has been refined with gel-free techniques—such as liquid chromatography/mass spectrometry—helping to reinforce or supplement gel-based techniques that can be costly and insensitive in detection of certain kinds of proteins.
Dr. Ruiz-Romero said that proteomics could prove to be an important tool helping to conquer two unmet needs: accurate diagnosis of OA and other rheumatic diseases at early stages and the monitoring of therapeutic strategies. The knowledge gained from proteomics might also help with the creation of personalized medicine programs.
ADVERTISEMENT
SCROLL TO CONTINUE
But, she added, there are still limitations in the complexity of the analyses, including a full understanding of posttranslational modifications. Sensitivity continues to be limited, and the speed of the analyses also has room for improvement.
"Proteomic technologies have really a great power for the discovery of novel molecules with marker value for osteoarthritis and for all rheumatic diseases," she said. Combining proteomics and genetic markers with more traditional markers is a good approach for diagnosis and monitoring of disease, but "a boost in the qualification and validation of these novel molecules is critically needed for their use in clinical routines."