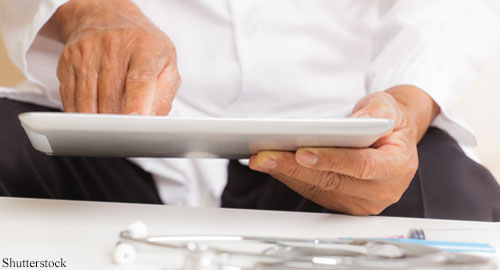 In many regions, rheumatologists are scarce, and shortfalls will only increase. Panelists in the session, Telehealth: Can It Expand the Rheumatology Workforce?, held Nov. 6 during the 2017 ACR/ARHP Annual Meeting, believe technology can help bridge the gap.
You Might Also Like
Also By This Author
The more specific term, telemedicine, "refers to clinical care delivered from a distance," said John A. McDougall, MD, postdoctoral fellow in rheumatology at Yale School of Medicine in New Haven, Conn., who coauthored a 2017 systematic review of telerheumatology programs.1 From a hub site, the rheumatologist communicates with the patient at a distant spoke site, such as a small community clinic or rural hospital, he said.
ADVERTISEMENT
SCROLL TO CONTINUE
"For the physical exam, the spoke site will also have a presenter, which could be a primary care physician or a community health worker or anything in between," he said. The rheumatologist can guide the presenter to conduct tests or physical examinations. Telemedicine modalities include video conferencing systems, such as Vidyo; secure provider-to-provider mentoring or training systems, such as the University of New Mexico's Project Echo; or asynchronous systems in which rheumatologists reply to information stored by a primary care provider.
"There are multiple ways rheumatologists can use all of these modalities in different phases in the diagnosis and management of disease," said Dr. McDougall. At initial encounters, the patient may need to travel to see the rheumatologist or be seen via videoconferencing with a presenter. As disease stabilizes, secure messaging may suffice.
ADVERTISEMENT
SCROLL TO CONTINUE
"Flares may require us to switch back to face to face or video messaging. In drug tapering or remission phases, maybe we can talk with the patient's care provider through e-consult systems."
Exciting New Field
For rheumatologists at regional hospitals or academic medical centers, "telemedicine is a fairly exciting way of rendering care to patient populations that are more difficult to access," said Daniel A. Albert, MD, a rheumatologist at Dartmouth-Hitchcock Medical Center in Lebanon, N.H., who mixes periodic in-person visits to smaller hospitals with telemedicine to provide care to patients in rural areas.
Many rheumatology follow-up visits do not require a physical exam, he said. "Telerheumatology works well in those scenarios. It may seem heretical to not have your patients there to be examined by you. Some patients may need to be examined by the presenter, or they may not be good candidates for telemedicine," he said.
ADVERTISEMENT
SCROLL TO CONTINUE
Telemedicine's main hurdles are administrative: credentialing, licensure, insurance and billing, said Dr. Albert. In all but nine states, the physician providing care must be licensed in the state where the patient is located. Physicians also must be credentialed at the hospital where the patient is receiving care. No template exists for telemedicine contracts, although a telemedicine association offers some resources online. There is a "-TH" suffix for ICD-10 reimbursement codes that involve telehealth. And controlled substances and infusions may be restricted if prescribed via telemedicine, he said.