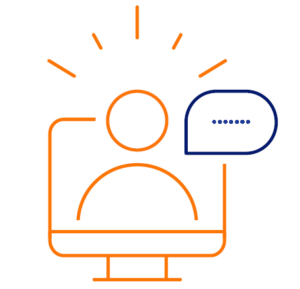 The ACR and the ARP are preparing to relaunch the Advanced Rheumatology Course (ARC) with a fresh look and an enhanced format to facilitate the learner experience.
Since its debut, the ARC, formerly the Nurse Practitioner and Physician Assistant Postgraduate Rheumatology Training Program, has been a valuable resource for hundreds of nurse practitioners (NPs), physician assistants (PAs) and other health professionals who provide care to people with rheumatic diseases. It was launched to support the development of rheumatology professionals to help address the growing gap in supply and demand for rheumatology services revealed in the 2005 and 2015 ACR workforce studies.1-4 The ACR and the ARP developed the Rheumatology Core Curriculum for NPs and PAs beginning a career in rheumatology.5 The ARC supplements the Rheumatology Core Curriculum for NPs and PAs.
The ARC is designed to provide comprehensive, advanced educational content to professionals who wish to expand their knowledge and clinical skill sets in rheumatology with a strong focus on information that will help NPs and PAs contribute to the clinical practice of rheumatology and foster interprofessional collaboration.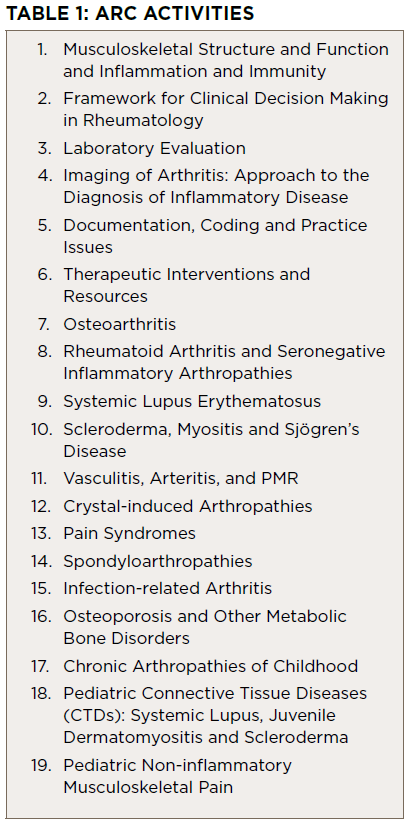 The course was created for NPs and PAs, but rheumatology fellows in training, internal medicine residents, medical students, primary care providers and other providers new to rheumatology have found the content beneficial. It is an online, highly interactive, case-based educational tool that can be completed at a learner's own pace. Activities focus on core rheumatology content and cover both pediatric and adult rheumatic diseases. The activities are narrated by an author and include interspersed knowledge assessments (see Table 1). Learners can complete all 19 activities or select activities that best meet their needs.
With the release of the updated ARC, learners will find a fresh look. While the ARC content presents the latest medical advances in rheumatology, the update also features increased interactive learning opportunities.
The ARC expert authors represent an interdisciplinary rheumatology team, comprising clinicians, educators and other health professionals. Each author creatively shares their knowledge and experience in the ARC activities by reviewing core medical knowledge and describing common case presentations that reinforce foundational knowledge. The ARC editorial team (the authors of this article) coordinated the refresh.
CME
Continuing medical education (CME) credit will be available for those who complete ARC activities.
The Rheumatology Research Foundation offers financial support through two awards for those who wish to complete the ARC: the Mentored Nurse Practitioner/Physician Assistant Award for Workforce Expansion and the Health Professional Online Education Grant.