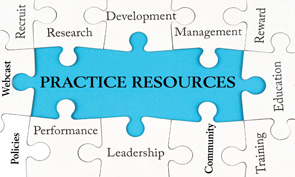 The ACR practice management department is actively working to provide valuable, accessible resources for rheumatologists and their staff in addressing practice issues on a local and regional level. Our trained professionals are devoted to providing the most up-to-date tools and resources to help improve practices efficiently while meeting the myriad compliance obligations of the ever-changing healthcare landscape.
The practice management resource center is designed to assist with such issues as coding and billing guidelines, documentation and denials management, as well as understanding the intricate details of working with Medicare, private insurers and even self-pay patients.
Practices can receive assistance and gain solutions to practice management, coding and billing issues by utilizing the ACR website at rheumatology.org/practice. Key resources include:
Coding & Practice Management Webcast Series
Is your practice ready for the changes required for documentation improvement, ICD-10, compliance and audit guidelines? Don't miss the 2015 Webcast Series with the ACR coding and practice management experts as they supply the guidelines and strategies necessary to navigate through the changes. Each broadcast will be 60 minutes and will include frequently asked questions. Webcasts will be available online on a quarterly basis beginning in January 2015.
Certified Rheumatology Coder Review Course & Exam
The CRHC exam is designed to provide learning and thoroughly test the coding knowledge of professionals in rheumatology, including physicians, coders/billers, office managers, administrators, consultants and other health professionals. The ACR's practice management department will send their PMCC coding instructor to conduct a day-long review course and administer the three-and-a-half-hour exam at several different locations throughout the U.S.
Advanced Rheumatology ICD-10 & CDI Boot Camp
The Advanced ICD-10 and CDI Boot Camp provides physicians, coders, billers and practice managers with in-depth education on new and changing documentation requirements needed to effectively manage the transition to ICD-10 and ultimately ensure quality patient care. The ACR certified coders and CDI specialists will conduct this eight-hour course with an overview of key coding guidelines, documentation requirements by body system and understanding of the ICD-10 structure, and discuss changes to the guidelines in ICD-10-CM for frequently reported diagnoses. Participants leave class ready to maximize documentation efforts for diagnoses and E/M and procedural codes commonly targeted by third-party and government payers.
The rheumatology-specific ICD-10 and CDI Boot Camps will be offered around the U.S. at various locations. For a list of upcoming courses, contact the practice management department at [email protected].
Evaluation & Management Chart Auditing—Avoid Audit Risks
This hands-on training program is designed to assist rheumatology practices in recognizing the essential steps in identifying documentation improvement and coding risks areas before a third-party or government audit. For more information on self-auditing or to schedule an on-site meeting, contact the ACR certified healthcare auditors.
Business Side of Rheumatology
A practical business manual for rheumatologists, fellows-in-training and practice administrators on starting, selling or redesigning a rheumatology practice.
Rheumatology Coding Manual
This reference is a practical guide for rheumatologists and their staff to communicate effectively with third-party payers regarding the medical services provided to patients.
Model Biologics Policy
The ACR's official policy used to educate insurance carriers in the usage, benefits and treatment options deemed appropriate for patients with rheumatic diseases.
Insurance Letters
The ACR provides online templates for letters addressing the ACR's position on proper reimbursement practices. Additionally, the ACR sends letters on behalf of members to insurance companies.
Health Plan Complaint Form
In an effort to better assist in addressing both individual and system-wide insurance issues, the ACR developed a standardized complaint form, which can be completed and submitted to the ACR for assistance.
Benchmarking Resources
The ACR has conducted comprehensive studies to determine benchmarks for rheumatology practices. The most recent economic study was conducted in 2009 and the results are available online. Currently, we are working on a new online benchmark to obtain up-to-date information.
Listserv Communities
The automated e-mail discussion forums are designed for interactive discussions with your colleagues. The listservs are designed to improve communication between and among members, offer a forum for exchanging ideas and allow you to benefit from the experience, knowledge and wisdom of your colleagues. Some of the listservs available are advocacy, coding and individual states.
Education
The practice management department works with the education department to provide sessions during the ACR/ARHP Annual Meeting. This year, we're offering the practice management pre-meeting course on Nov. 15 and will cover must-attend sessions on areas of revenue cycle management, marketing, contract negotiations and office management.