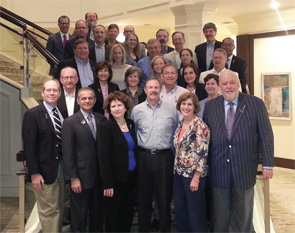 The ACR Board of Directors and committee chairs.
Attacks Thwarted
During this year, the ACR tackled multiple attacks on the ability of rheumatologists and rheumatology health professionals to operate effective and profitable enterprises. Whether it is the daily care of patients or work in the laboratory, our ability to do what we love and what patients need is being pummeled. We have seen a federal government that seems uninterested in supporting the medical scientific community.
ADVERTISEMENT
SCROLL TO CONTINUE
The funding by the federal government of rheumatology research is dwindling, and this compromises the careers of promising scientists. The portion of NIH grants awarded to rheumatology is unacceptable. The Committee on Research has vigorously requested more information on the grants-making process to better understand how these grants are distributed and to ensure rheumatology is fairly treated. Our advocates constantly press the need for more support for research.
CMS and other insurers are threatening our ability to give quality care to our patients. Some Medicare contractors have threatened to deny the professional administration of certain medications that can be self-administered by able patients. CMS will not understand that some patients simply cannot afford the cost of biologics covered under Part D and must use Part B to access effective treatment. Some Medicare contractors want to deny the costs associated with the infusion of the complex medications we use so effectively and safely to improve people's lives.
ADVERTISEMENT
SCROLL TO CONTINUE
We have even seen one insurer try to ration biologic care based on the deals they can achieve with manufacturers, not on the basis of what is right for the patient. A scheme was proposed to change stable patients to a different biologic medication based solely on the cost to the insurer. The ACR adamantly and successfully opposed this irrational threat to our patients.
One of the overarching themes of the year's work was information technology. We are anticipating the debut of a website I am sure you will love.
A Privilege
This has been a wonderful and challenging year. I have cherished the honor and privilege of serving you. The counsel of an outstanding Executive Committee, including Bill St.Clair, Karen Smarr, Joan Von Feldt, Sharad Lakhanpal, Dave Karp and Eric Matteson, has fortified me in my mission. Our Board of Directors has been courageous in taking on difficult work, and I deeply appreciate their support and dedication.
ADVERTISEMENT
SCROLL TO CONTINUE
The entire ACR staff has been pivotal in my ability to lead, and if I mentioned each of their contributions, there would be no room for anything else in The Rheumatologist this month! To mention just a couple: Mark Andrejeski leads a hard-working and talented staff; I highly regard his guidance and friendship. Julie Anderson is an extraordinary association executive whom I value deeply and who made the work of the president and the executive committee possible. Thank you, Julie. Presidents come and go, but the staff sustains the ACR.