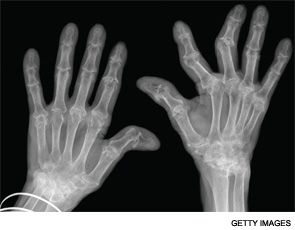 Over 90% of RA patients have anti-cH2B antibodies and over half have measurable levels of synovial fluid H2B immune complexes.
BOSTON—Evaluation of 36 years of data from the Nurses' Health Study has demonstrated an increased mortality risk for women with rheumatoid arthritis. Results of that and four other trials were presented during the Rheumatology Research Foundation Corporate Roundtable Awards Plenary Session on Nov. 16 at the ACR/ARHP Annual Meeting.
ADVERTISEMENT
SCROLL TO CONTINUE
Jeffrey Sparks, MD, MMSC, Brigham and Women's Hospital in Boston, presented results of the trial (Abstract 818) that evaluated 36 years of follow-up data available from the Nurses' Health Study (NHS), a cohort of 121,700 women followed from 1976–2012. Medical records and cause of death for 964 women who were diagnosed with incident RA after the start of the NHS were examined and compared with similar data for women in the NHS who did not have RA.
Dr. Sparks reported that the women with RA had a statistically significant 41% increased risk of death from all causes, compared with women without RA, even after adjustment for age and other mortality risk factors, such as cigarette smoking. The risk was 51% higher for women with seropositive RA, when compared with women without RA. For every five years of RA duration, there was an 11% increased risk of death compared with the risk for women without RA.
ADVERTISEMENT
SCROLL TO CONTINUE
The risk of respiratory mortality, including chronic obstructive pulmonary disease (COPD), pneumonia, chronic interstitial lung disease and asthma, was "most marked" for women with RA, Dr. Sparks said. There was a twofold increased risk of respiratory death, but the risk was nearly threefold higher among women with seropositive RA compared with women who did not have RA. Dr. Sparks said that COPD was the largest contributor to respiratory deaths among this population, with 25 deaths due to that cause, followed by nine deaths due to pneumonia. "Respiratory causes of death are an underappreciated contributor to RA mortality," he said.
The risk for cardiovascular disease mortality was also higher at 45%. There was no association between RA and cancer mortality, he said.
Treat to Target
Patients with RA whose disease was tightly controlled for 10 years had a comparable survival rate to people matched by age and gender to people without RA in the general Dutch population. I.M. Markusse, MD, at the Leiden University Medical Center, The Netherlands, reported results of the BeSt study (Abstract 817), which enrolled 508 patients with recent-onset active RA.