Explore This Issue
July 2014
Also By This Author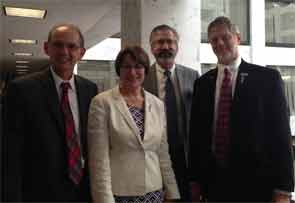 From left: Eric L. Matteson, MD; Sen. Amy Klobuchar (D-Minn.); Timothy Laing, MD; and Gary Bryant, MD.
ADVERTISEMENT
SCROLL TO CONTINUE
Advocacy Leadership Conference
The ACR Board of Directors, Government Affairs Committee, RheumPAC Committee and Affiliate Society Council converged on Washington, D.C., last month to participate in the annual Advocacy Leadership Conference.
ADVERTISEMENT
SCROLL TO CONTINUE
During the conference, attendees heard from John Pilotte, who leads the Performance-Based Payment Policy Group at CMS. Mr. Pilotte discussed the value-based payment modifier and PQRS reporting and received input from rheumatology leaders. The conference also included an update on cognitive specialty issues on Capitol Hill by Mike Amery with the American Academy of Neurology. The group then took to Capitol Hill, where they met with representatives of more than 90 congressional offices and advocated for important issues facing rheumatology. The top issues addressed were patient access to critical treatments, funding for research, work force issues, DXA payment rates, and Medicare Part B drug reimbursements.
You can help advance rheumatology and ensure patients' continued access to quality care.
The ACR encourages all members to help advance rheumatology by scheduling a local meeting to educate your lawmakers about advocacy priorities. Members of Congress have regular district work periods when they are available to meet with constituents in their local offices. This is an important opportunity to provide information and build relationships. Please consider scheduling a meeting during the upcoming district work period: Aug. 4–Sept. 5. If you would like assistance scheduling or preparing for a meeting or would like to share your experiences meeting with lawmakers, contact ACR staff at [email protected] or 404-633-3777.
ADVERTISEMENT
SCROLL TO CONTINUE