Editor's note: This column concludes Dr. Pisetsky's saga to travel home to the U.S. from a rheumatology meeting in Europe after the Eyjafjallajokull volcano in Iceland erupted.
An event like a volcanic eruption is so momentous that it inevitably becomes a metaphor for other bad happenings in life. Ash does not shine brightly, but its presence nevertheless illuminates the vagaries of existence and, most certainly, the cataclysms of illness. For those who suffer from them, serious medical conditions like rheumatoid arthritis (RA), lupus, and vasculitis are volcanoes. In the suddenness with which they strike, these conditions are devastating. They cause uncertainty and pain and, in an instant, can dramatically change perspective and transform sensibility.
ADVERTISEMENT
SCROLL TO CONTINUE
My recent experience of traveling in Europe during the Icelandic volcano eruption demonstrates this situation in a clear—albeit minor—way. Before my wife and I went to the meeting in Mandelieu, France, we spent a few days in a town called Beaulieu-sur-Mer, staying in an old-fashioned pension. Although the place had charm and delicious croissants, I thought that the bed was soft and lumpy. For three days, I could survive while I tossed and turned to get comfortable. Of course, that bed was much better than the conveyor belt in the Madrid Airport where I catnapped while waiting to rebook a flight. Nevertheless, after 16 hours sitting scrunched in a van travelling from Nice, France, to Madrid, lying down on a belt was bliss, and I couldn't have been more pleased by the accommodations.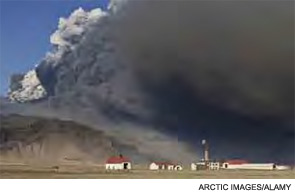 Volcanic ash cloud from the Eyjafjallajokull volcano eruption in Iceland in the spring of 2010.
Fate and Fortune
When patients with serious illness report a good quality of life, the favorable evaluation may reflect a recalibration of expectations that has little to do with the normal standards of life. People who get sick adjust their worldviews rapidly and find happiness in ways that would be almost inconceivable before they became sick. In the aftermath of the volcano and fearing an ordeal avoiding pickpockets while waiting for a flight, I was thrilled to just close my eyes.
ADVERTISEMENT
SCROLL TO CONTINUE
In asking patients to describe their lives, we do not give them the time or latitude to explain the impact of their illness in a way that I have done with the account of my van ride. The trip, while tedious and annoying despite good company, was really just a small bump in the road, but its telling has consumed many words—now three columns total—and I could have gone on much longer. I have had the luxury of this column to elaborate on my journey. If I was a patient in clinic and this was a chief complaint, I would have been pressured to cut this account very short and reduce it to seconds.