The cards sat, untouched, in a corner of my desk.
In the 1800s, it was common for American saloons to provide patrons with a free meal. Of course, the meal came with a catch: The meals were predictably salt laden and designed to encourage patrons to drink more beer. Hence was born the expression, "There ain't no such thing as a free lunch," which has been called the foundation of economic theory.1
ADVERTISEMENT
SCROLL TO CONTINUE
To paraphrase journalist Molly Ivins, I'm sure it sounded better in the original Korean.2 My parents may not have used these exact words, but the sentiment was woven into my childhood, just like it was for many children of immigrants: Study hard. Think ahead. And, of course, don't expect any handouts.
And that is why the cards sat in a corner of my desk. Illogically, I couldn't bring myself to throw them out; they were made out of the same shiny material that my insurance company uses to make identification cards, and they came with a professional-looking cardboard container, which was obviously intended to be used to display the cards in my office for my patients to pick up. I just couldn't bring myself to put them out.
ADVERTISEMENT
SCROLL TO CONTINUE
The cards came from GoodRx.
They are not a new company, by any means. The instructions are simple: Bring one of their cards to the pharmacy the next time you need to pick up a prescription. The pharmacist will run the numbers on the back of the card and provide you with a discount. You don't have to pay a fee. You don't have to belong to a specific insurer. You don't even have to register; you can just print the coupons posted on its website.3
That sounds an awful lot like a free lunch.
ADVERTISEMENT
SCROLL TO CONTINUE
Honestly, part of the problem was my own laziness. I would have felt just awful if I had given one of my patients a GoodRx card only to find out later that it was a scam of some sort, even if I didn't quite understand how that could possibly work.
Then I heard the news: GoodRx is for sale. The asking price: $3 billion.4
Clearly, sharper minds than mine see profit in doing good. How does GoodRx work, and more importantly, why is it worth so much?
Doing Well by Doing Good
It started in 2010, when Doug Hirsch tried to pick up a prescription. The pharmacist told him the prescription would cost $450. So Mr. Hirsch did what many of us would have done—he thanked the pharmacist for the information and walked out the door. Quickly. He walked to a second pharmacy, whose salesperson told him it would cost $300. A third pharmacy offered to match the price offered by any other pharmacy.
Mr. Hirsch said, "For me this was eye-opening. I just figured it was a person in a white coat and they came up with the price. To learn there was a competitive market blew my mind."5
It also blew his mind that this information was not easily available on the web. In a world in which you can find anything on Google, the prices of drugs remained mysteriously out of reach. The only reliable way to find out how much any given pharmacy might charge for any given drug was to walk into their store and ask.
If this had happened to any of us—and I'm sure it has—that is largely where the story would have ended. A few irritated can-you-believe emails later, we would have coughed up the money, and moved on with our lives.
Doug Hirsch, however, had a particular set of skills. As a former employee of Facebook and Yahoo!, he and two colleagues started GoodRx to allow consumers to comparison shop for medications.
If you go to the GoodRx website and search for hydroxychloroquine, for example, you will see the average cost of a month's supply is around $200. But the over-under on this average cost is enormous. One popular retail pharmacy would charge you $277. Another pharmacy would charge you $6, almost 50-fold less.6
Underneath the Hood
GoodRx is essentially the Kayak or the Google Flights of the pharmaceutical world. Flight aggregators work by obtaining real-time information on the cost of specific routes, without requiring the consumer to query each airline individually. GoodRx provides essentially the same service for medications. It partners with pharmacy chains, pharmacy benefit managers and pharmaceutical companies to obtain the real-time cost of any given drug at any of 70,000 pharmacies across the U.S.7
So far, it sounds like I am describing the activities of a charity. Most charities, however, would not command a price of $3 billion on the open market. How does GoodRx generate a profit?
Frankly, I am not entirely sure. The creators of the service, on their website, assure us that when they started, they didn't even think about how to generate a profit; they were just looking to provide a service. I am sure that is true, just as I am equally sure they eventually realized they could do good and generate a decent profit, simultaneously.
When Mark Zuckerberg was asked by Sen. Orrin Hatch how Facebook could afford to provide services without charging the customer, he famously replied, "Senator, we run ads."8 The same is also true for GoodRx. In addition to this, just like Facebook and Google and other providers of ostensibly free services, it is undoubtedly squirreling away our data. GoodRx does not require membership, but it is certainly tracking clicks, and as part of the company's valuation, I am certain that someone thinks those data will have a market value.
Advertising is only part of how it generates a profit. It also functions as a pharmacy benefit administrator. The term you already know is pharmacy benefit manager, which is a company hired by a health plan, employer or government entity to manage a prescription drug program. Functionally, only three pharmacy benefit managers exist—Express Scripts, CVS Health and OptumRx, which together control almost 90% of the market and determine what medications will reach 238 million patients.9
As you know, the pharmacy benefit manager determines which drugs will be part of the health plan's network, how much the pharmacies will be paid for their services and which drugs will appear on the health plan's formulary.
Pharmaceutical companies often pay the pharmacy benefit manager to be included on a given formulary. This payment, called a rebate, is why the cost of any given drug to your insurer is likely lower than the list price.10
This leads to the second mechanism for generating profit—the clawback. Because of rebates, the amount the patient pays for a given drug may be more than the absolute cost of the drug. This difference represents additional profit, which is shared between the insurer and the pharmacy benefit manager.11
The difference between the cost of manufacturing a drug and the cost to the consumer can be enormous. For example, an analysis of Medicare data indicates that for each prescription for hydroxychloroquine we write, the manufacturer stands to earn $29.33 in profit. This may not sound like much until you take into account prescription volume. From 2014–18, this markup was worth over $60 million. From Medicare alone. For Plaquenil.12
In the past several years, we have seen the birth of the pharmacy benefit administrator, in which the company retains control of formulary decisions and rebate negotiations. The pharmacy benefit administrator merely processes the paperwork for a fee.13
GoodRx is a pharmacy benefit administrator. As such, it is not beholden to any particular pharmacy benefit manager or pharmaceutical company and can work with all of them, free to direct patients to whichever group seems to be offering the best deal for any given drug. Of course, every time someone uses the GoodRx code to purchase a drug, GoodRx receives a flat fee for taking care of the associated paperwork.
The Hidden Costs of Healthcare
The move toward pharmacy benefit administrators is seen as a way to reduce healthcare costs. Because they don't directly negotiate with pharmaceutical companies, they have no hidden motivation to direct a patient toward atorvastatin rather than simvastatin. They simply relay the formulary decisions and cost savings negotiated by the company that hired them. The system is financially transparent.14
This isn't to say they do this for free. This year, GoodRx is on track to earn $100 million.
Why should you care? GoodRx helps patients save some money and generates some money along the way. I have even started to send my patients to its website when they express sticker shock at the cost of a drug I prescribed. What's the harm?
The problem is less with what GoodRx does and more with what it represents. In a field with few heroes, GoodRx seems to be one of the good guys. And yet it still manages to generate a healthy profit just by helping patients purchase drugs, such as hydroxychloroquine. GoodRx claims it has saved Americans $10 billion on prescriptions, but why should these savings come only to web-savvy people who own a printer and an internet connection?5 Imagine also the amount of profit generated by its less altruistic brethren, hidden behind confidential agreements that will never be made public. Even if GoodRx is one of the good guys, will it remain so after being acquired? Is there really no better way for these funds to be distributed?
Markets Without Rules
In 2018, spending on prescription drugs increased by 10%. Spending, not utilization. It's not that patients are taking more drugs; the drugs that they are already taking just cost more. Another statistic: 7.8% of patients report not picking up a prescription after finding out how much it would cost.15 Forget about new technologies for just a moment; imagine, instead, how much we could improve the health of our patients if they all could afford to take the pills they were prescribed.
Individual state governments have already begun to examine this issue more closely:16
Arkansas, Connecticut and Kentucky have launched investigations into spread pricing, the difference between what pharmacy benefits managers charge insurance companies and what they actually pay pharmacies;

Ohio audited OptumRx and CVS and found that both companies kept $224 million through spread pricing;

West Virginia removed the pharmacy benefit manager in charge of Medicare patients for the state, saving the state $32 billion; and

Pennsylvania's top auditor has strongly argued that their state should follow West Virginia's example.
These states are discovering that allowing market forces alone to set the cost of drugs does not always lead to a fair price. Sen. Elizabeth Warren (D-Mass.) puts it succinctly: "I believe in markets. But I believe in markets with rules. Markets without rules is theft."17
Surprisingly, the business world largely agrees that the free market should be a little less free. On Aug. 19, the Business Roundtable, a coalition representing more than 200 of the largest companies in the U.S., including Abbott, Bayer, Bristol-Myers Squibb, Mallinckrodt Pharma­ceuticals, Pfizer, Walgreens and CVS Health, all signed a statement asserting the primary purpose of the American corporation is no longer to generate a profit. Other goals, such as "supporting the communities in which we work" and "investing in our employees [by] compensating them fairly and providing important benefits," now carry equal weight.18 Affordable access to basic medications is one of those "important benefits."
In the U.S., belief in the power of market forces to resolve problems is almost a religion. It is time to admit that our faith has been poorly placed. The price a drug commands in the marketplace is determined largely by how desperate the patient is for salvation, not its true worth. As heretical as it sounds, it may be time to cap the profits generated by our oldest drugs—like hydroxychloroquine—and redirect those monies toward keeping those same drugs affordable for all of our patients. Allowing market forces alone to determine the price of basic medications is immoral.
No one expects a free lunch, but it's not unreasonable to expect a fair price.
---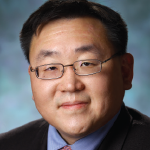 Philip Seo, MD, MHS, is an associate professor of medicine at the Johns Hopkins University School of Medicine, Baltimore. He is director of both the Johns Hopkins Vasculitis Center and the Johns Hopkins Rheumatology Fellowship Program.
References
Friedman M. There's No Such Thing as a Free Lunch. Chicago: Open Court Publishing Co., 1975.
Ivins M. Notes from another country. The Nation. 1992 Sep 14.
How GoodRx works. GoodRx. (n.d.).
Farr C, Sherman A. GoodRx, a service for finding the best price on prescription drugs, is in sale talks for up to $3 billion. CNBC. 2018 Jun 20.
Sheng E. This app has saved Americans $10 billion on prescriptions so far. CNBC. 2019 May 15.
Hydroxychloroquine prices, coupons & patient assistance. GoodRx. (n.d.).
What is GoodRx? How does it work? GoodRx. (n.d.).
Stewart E. Lawmakers seem confused about what Facebook does—and how to fix it. Vox. 2018 Apr 10.
PBM Resources. National Community Pharmacists Association. (n.d.).
Thomas K. Meet the rebate, the new villain of high drug prices. The New York Times. 2018 Jul 27.
Hiltzik M. The 'clawback': Another hidden scam driving up your prescription prices. Los Angeles Times. 2017 Aug 9.
Managed care Medicaid's top 20 over $20 list. 46Brooklyn. 2019 Aug 20.
PMCS and EBRx announce the first fully-transparent benefit administrator. BusinesWire. 2004 Aug 27.
MBGH calls on employers to rethink pharmacy benefit strategies. PR Newswire. 2017 Sep 13.
Kelley T. When the cost of medications keep patients from taking them. Managed Care. 2018 Jun 3.
Herman B. States are the new battleground for drug price middlemen. Axios. 2018 Dec 19.
Pierce CP. Elizabeth Warren should include her 'markets without rules are theft' line in every speech. Esquire. 2019 Mar 19.
Gelles D, Yaffe-Bellany D. Shareholder value is no longer everything, top C.E.O.s say. The New York Times. 2019 Aug 19.