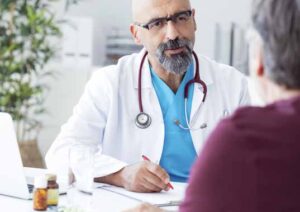 The impressive progress of medical knowledge and technology reinforces our trust in the scientific methodology that made it all possible. However, that progress also creates risks related to the primary goal of medical care: to serve our patients' interests and enjoyment of life in the best possible way.
In this article we present our views on how the currently prevailing treatment strategy can be taken a step forward to simultaneously sharpen our therapeutic targets in rheumatoid arthritis (RA) and foster empathy and patient-centered care. The proposal may be applicable to a variety of conditions, in addition to RA.
Linda's Clinical Scenario
"Linda" is a 37-year-old math teacher and mother of two—a 2-year-old and a 4-year-old. She was diagnosed with RA 18 months ago, 10 weeks after her first symptoms appeared. Pain and morning stiffness made it impossible for her to carry out her family duties and kept her out of work for three months. With medication, her symptoms have significantly improved.
Linda is being treated by "Dr. Snow," who runs a busy, but well-organized and evidence-based, clinic. Every three months, Linda has an appointment and fills in several questionnaires about her disease. She feels lucky to have found Dr. Snow, and he has been pleased with her progress so far.
Linda's disease activity has been assessed systematically by support nurses, and a remission target has been consistently pursued, although this was not exactly the subject of shared decision making. Her therapy was stepped up, as recommended, and the results have been positive—until now. Linda's Simplified Disease Activity Index (SDAI) score has increased beyond the low disease-activity level.
Dr. Snow must now decide whether to switch the biologic disease-modifying anti-rheumatic drug (bDMARD) Linda has been taking to another agent. Figure 1 shows Dr. Snow's register of Linda's disease activity levels, as well as the DMARD scheme followed until today.
Treat to Target
The guiding principles of treat to target, described for RA more than a decade ago, are:1
Selecting a target (i.e., remission or, at least, low disease activity in every patient) and a method for measuring it;
Assessing the target at pre-specified time points (e.g., every three months);
Making a commitment to change the therapy if the target is not achieved; and
Exercising shared decision making.
These have been incorporated as guiding principles in the EULAR and ACR treatment recommendations for RA since 2010 and 2012, respectively.2,3 These treat-to-target principles represented a major advance in our field, providing the best possible certainty of reducing or halting the progression of joint damage and disability.4