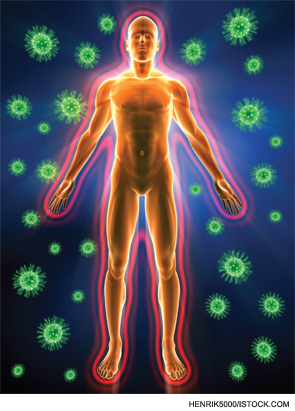 The immune system faces danger from many fronts—and the dangers to the healthcare system are just as numerous.
While attending the Florida Society of Rheumatology annual meeting in June 2010 in Bonita Springs, Fla., I listened to two very different lectures: One was a review of the immune system for rheumatologists and the second was an update from Washington, D.C., on healthcare issues. What does the immune system have to do with how we understand and deal with healthcare issues? I believe that many of the general principles regarding the immune system can be applied to develop a rational approach to understanding and dealing with the issues surrounding healthcare.
At the conclusion of the healthcare issues talk, the general tone of the physicians was understandably quite pessimistic. The list of bad news seemed endless, and solutions to these problems seemed remote. However, by virtue of our education and training, physicians have the necessary prerequisite problem-solving skills to effectively deal with these issues.
ADVERTISEMENT
SCROLL TO CONTINUE
Rheumatologists have elucidated the complex pathways of the immune system, and have used this information to develop rational and effective therapies for our patients. Both the immune system and our healthcare problems are complicated, with multiple intertwined and redundant pathways.
Danger Is All Around Us
The immune system faces danger in many forms (i.e., physical damage, chemical toxins, infections, and cancer). The system has developed a very elegant method of detecting these threats, utilizing toll-like receptors, pattern recognition molecules, antibodies, T cells and B cells, complement, and so forth. The dangers we face in healthcare today are numerous and no less serious, and include the following:
ADVERTISEMENT
SCROLL TO CONTINUE
A flawed Sustainable Growth Rate (SGR) formula and a Congress that refuses to legislate a permanent fix for it. With the loss of consultation codes, reductions in reimbursement for other professional services, and a 25% cut in Medicare reimbursement hanging over our heads, physicians are seeing their livelihood deteriorate drastically in real time. Access to care will become a major issue as a result of many rheumatologists dropping out of Medicare as a result of these cuts.
The American Medical Association, which represents only 16% of U.S. physicians, signed on to President Barack Obama's healthcare plan but failed to obtain any concessions from the administration.
Skyrocketing insurance premiums that reflect the inadequate nature of insurance reform.
The lack of meaningful tort reform—which is not surprising given the fact that most legislators are attorneys, or are heavily backed by lobbyists representing trial attorneys.
Endless requests from pharmacy benefit managers (PBMs) and insurance companies for prior authorizations for medications and diagnostic tests. PBMs are hired by insurance companies to save them money. They accomplish this by stalling, delaying, or refusing to cover the cost of medications we prescribe. Some PBMs even go so far as to require "step" therapy, and stipulate a patient must first fail an unapproved drug before receiving an approved one. PBMs only serve the interest of insurance companies, do not have the patient's interest as their primary concern, and take advantage of physicians' good will to help their patients by inundating us with endless paperwork and phone calls and overburdening our staff without reimbursing us for these services.
Abusive and unreasonable audit practices by recovery audit contractors who are paid by the Centers for Medicare and Medicaid Services to recoup monies from physicians. Audits by insurance companies can effectively shut down a medical practice by requesting an excessive number of records and taking physicians' time that would otherwise be spent caring for patients.
The creation of the independent payment advisory board by the Patient Protection and Affordable Care Act. The board, which will be selected by the president and will start issuing proposals in 2014, will be required to recommend Medicare spending reduction in any year in which the Medicare per capita growth rate exceeds a target growth rate. These recommendations would become law without overriding Congressional action. The board will have excessive unchecked authority.
Overbearing government and payer intrusion is eroding the physician–patient relationship and our ability to care for our patients.
In order to effectively deal with healthcare issues, it is necessary to know the players and their roles and functions. Once we learn the normal "pathways," we can begin to address "a system gone awry." The basic purpose of the immune system is to provide surveillance so that appropriate defense against attack can be promptly activated. Our role in dealing with healthcare issues also involves maintaining surveillance about changes that affect our profession, and mounting an effective defense against irrational or unjust policies.
Fight the Battles We Must Win
If at first we do not succeed, let's try another approach. One approach simply does not work in all situations, and this is true whether we are speaking about the immune system or issues related to healthcare. The immune system has many elegant approaches available to it. If an antibody receptor antagonist does not work for a patient with rheumatoid arthritis, we can use a T-cell immunomodulator or possibly a B cell–depleting therapy or interleukin receptor antagonist. At times when dealing with healthcare issues, an immediate and specific response as utilized by the immune system is best. An example is direct interaction with insurance company executives to limit or modify their policies. Another example is contacting our legislators for assistance to reverse unfair government practices affecting our small businesses. At other times, the adaptive immune response utilizing a specific, delayed response may be more effective. The long-term fixes, such as SGR, malpractice, insurance, and Medicare reform, are best attempted using this approach.