On the last day, before leaving Can-Tho, I asked one of our team members to coordinate a canoe trip to the floating market of Cai-Rang in the canals of the Mekong delta, where the local people live, raise chickens and ducks, and grow the famous longan trees and other tropical fruit trees—rambutan, durian, and water coconut. It was R and R for all of us, yet a chance to be with the farmer, the fisherman, the children, and the old Vietnamese women at their doorsteps.
You Might Also Like
Explore This Issue
July 2009
Then we flew to Hanoi, the capital of Vietnam, and conducted the same conference at Bach-Mai Hospital. Standing in the clean and well-lit lobby of this more than 100-year-old hospital, it came to me that the walls of this building had weathered numerous political storms, witnessed countless changes with the social ups and downs of Vietnam, and saved numerous lives famous and unknown—this very hospital was bombed during US air raids in 1972. From the lessons learned from the South, our conference in the North improved. Again, I wore two hats: leader of the emergency medicine and trauma team and a rheumatologist interacting with the physicians of the rheumatology department. I felt deep gratitude towards the physicians and patients who taught me about so many rheumatologic diseases particular to the tropics: a tropical version of dermatomyositis, lupus, and parasitic-induced musculoskeletal diseases.
ADVERTISEMENT
SCROLL TO CONTINUE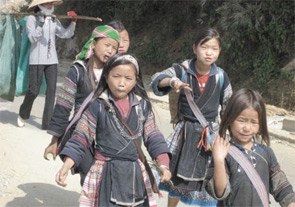 Vietnamese children.
Lessons Learned 2006
Update on Infectious Diseases and Infection Control was the focus for our training team in 2006. With this adventure, an infectious-diseases doctor from California led the team and I coordinated the effort between American and Vietnamese physicians. With the advent of SARS, the avian flu, the stigmata of HIV in Asian cultures, and the resurgence of tuberculosis worldwide, I saw an urgency in dissemination of the latest medical facts to the Vietnamese healthcare professionals, and worked diligently with our team of infectious-diseases specialists in the United States and our Vietnamese counterparts for seven months before our departure to Vietnam. Drawing from heartaches and lessons learned from my two previous trips, I made personal contacts with physicians, hospital administrators, and tour operators. In addition, I looked into the finest details of our conference, including lecture content, format, and translation; conference schedules; extending a clear invitation to Vietnamese healthcare professionals; audio-visual equipment; and down time for our team.
The 2006 Infectious Diseases and Infection Control Conference in the South drew 230 physicians and scientists of great experience and caliber from Saigon, the southern provinces of Vietnam, including several southern-central provinces. In Hanoi, there were 220 physicians and scientists from the northern provinces. My goal for the project was to steer the conference toward benefits for the attendees, within acceptable limits of our team's energy and time. Still, the attendees wanted more time for questions with our specialists.