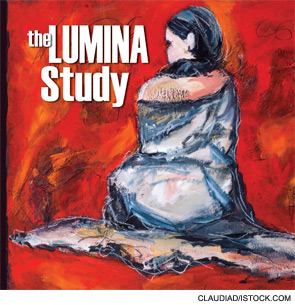 A 20-year-old Mexican woman presented to a local health facility in Corpus Christi, Texas, complaining of three days of difficulty in breathing and chest pain on inspiration. A month prior to the onset of these symptoms, she had delivered a healthy baby boy. Of note, she was in good health prior to the pregnancy, and her pregnancy and delivery had been uneventful. However, she had not received any routine prenatal care. Her physical examination at the presentation to the health facility was negative. She was given a nonsteroidal antiinflammatory drug to alleviate her chest discomfort and advised to return if her symptoms worsened. They did. Within two days, she was barely able to breathe and was coughing up blood-tinged sputum. She was taken to the local hospital, where she was found to have bilateral pulmonary infiltrates consistent with diffuse alveolar hemorrhage; her white blood cell and platelet counts were decreased, and she was moderately anemic. Laboratory studies indicated the presence of proteinuria, hematuria, and cellular casts on her urine. She was admitted to the intensive care unit where, despite mechanical ventilation, fluids, antibiotics, and glucocorticoids, her condition continued to deteriorate. She died within 48 hours.
Sadly, despite all of the advances in medicine in this country, cases like this patient's continue to be all too common and dramatize the gaps in our scientific understanding of lupus as well as the serious gaps in our healthcare system. Although this case occurred in Texas, this young woman reminds me of the patients I saw in the 1960s as a medical student in my native Perú—patients with rapidly evolving lupus who, oftentimes, did not survive.
ADVERTISEMENT
SCROLL TO CONTINUE

click for large version
TABLE 1: Predictors of mortality: Multivariable analyses at 11 years (deceased=63)
The challenge of managing patients like these was my primary motivation for becoming a rheumatologist. For years, rheumatologists charged with the care of Hispanic patients in Texas, Arizona, New Mexico, and California had observed patients with rapidly evolving lupus characterized by severe organ involvement, much in the same way as it had been observed in individuals of African descent for decades throughout the United States. With Hispanics now constituting the largest and fastest-growing U.S. minority population group, patients of this descent are presenting not only in the Southwestern states but all across the country. Today, rheumatologists, no matter the setting, need to be aware of the potentially very serious outcomes of Hispanic patients with lupus.
Genesis of LUMINA
In 1993, a unique opportunity to participate in lupus research arose for me when the National Institute of Arthritis and Musculoskeletal and Skin Diseases (NIAMS) issued a Request for Applications (RFA) to study lupus in minorities. I felt that the time was right to expand the definition of minorities in the United States to include Hispanics, who, even then, were close to being the largest minority group and were the fastest growing. Until that point, my academic career at the University of Alabama at Birmingham (UAB) had been devoted to genetic and therapeutic studies in rheumatoid arthritis. Applying for these funds represented a departure of my initial efforts, but one that could get me back to my original motivation to become a rheumatologist.
ADVERTISEMENT
SCROLL TO CONTINUE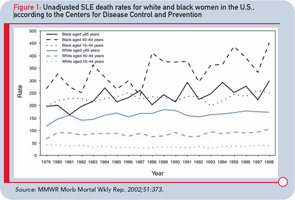 click for large version
Figure 1: Unadjusted SLE death rates for white and black women in the U.S., according to the Centers for Disease Control and Prevention
In this endeavor, I was strongly encouraged to respond to this RFA by the then Division Director, Dr. William Koopman, a distinguished rheumatologist who served as the ACR president between 1996 and 1997. I remember Bill saying, half-jokingly of course, "Chela, you can become the next Lupus Queen," to which I simply replied with a smile. I'm not sure who, among the many distinguished women who have preceded me, carries such a title! Obviously, I have not become the Lupus Queen, but I can honestly say that, because of the Lupus in Minorities: Nature versus Nurture (LUMINA) study, I have gained some degree of recognition within the international community of lupus researchers, certainly beyond what I could have envisioned as a medical student in Perú.