Many rheumatology patients have complex conditions and require the added expertise of colleagues in other fields, such as pulmonology, neurology or dermatology. This is even more true when patients with complex care issues are referred to academic medical centers. At such centers, patients often travel hours for an appointment and see more than one provider.
You Might Also Like
Explore This Issue
July 2018
The University of Washington is the only academic medical center in the five-state region known as WWAMI (i.e., Washington, Wyoming, Alaska, Montana and Idaho), and it serves as a referral center for these states. Several years ago, we realized that if we wanted to better serve our patients' needs, we should make it easy for them to see their physicians and get the care they need. We gradually started a series of combined clinics with willing colleagues. At these centers, rheumatologist(s) would attend clinics in which combined expertise was often needed, including dermatology/rheumatology, nephrology/rheumatology, neuromuscular/rheumatology and interstitial lung disease (ILD)/rheumatology clinics.
ADVERTISEMENT
SCROLL TO CONTINUE
Combined clinics are not a new concept. Combined dermatology/rheumatology clinics are present at many academic institutions nationally and internationally, and many have focused on the combined treatment of psoriasis and psoriatic arthritis.1 Combining expertise has also led to the development of a fellowship at Brigham and Women's Hospital in Boston in which a rheumatologist or dermatologist can pursue a one-year fellowship in the combined dermatology/rheumatology clinic. More than 20 academic institutions participate in a research consortium based on the combined dermatology/rheumatology model of the Psoriasis and Psoriatic Arthritis Clinics Multicenter Advancement Network (PPACMAN).2 In addition, combined clinics in other fields, such as ILD/rheumatology and myositis/rheumatology, operated for many years at the Cleveland Clinic, Louisiana State University, National Jewish Health in Denver, Johns Hopkins in Baltimore and other institutions.
Clinics combine patient care in a variety of ways. Some simply schedule patients in different clinics on the same day, with interaction by phone or electronic medical record. Multidisciplinary conferences also provide combined care. Some combined clinics have specialists in the same clinic who see patients at different times, with a post-clinic conference or workroom interaction to discuss patient-care issues.
ADVERTISEMENT
SCROLL TO CONTINUE
I prefer the different-specialists, same-time strategy, in which specialists see the patient at the same time and hold a face-to-face discussion with the patient. This is what we do in most of our combined clinics. It's the most time-consuming method, but it provides a high-quality experience for trainees, specialists and patients. How often do we rheumatologists get to see a dermatologist describing what they see on examination in real time or watch as a skilled neuromuscular neurologist does a strength examination and discusses the findings, or listen as a pulmonologist reviews a high-resolution CT scan of the chest with a patient?
At one time, I was the principle rheuma­tologist in three of our four combined clinics at our institution, and the knowledge, skills and relationships I acquired have been invaluable to my ability to better care for my patients. It opened a whole new world to me as I learned about such things as Borg scales, interface dermatitis with mucin deposition and the significance of finger-flexor weakness in patients with myositis.
Likewise, since I joined an ILD/rheuma­tology clinic, we have identified a large number of patients with antisynthetase syndrome and ANCA-associated ILD that could have otherwise gone unrecognized, and I have helped evaluate patients with IPAF (interstitial pneumonitis with autoimmune features). We include fellows, residents and occasionally medical students as part of the combined clinics, and the clinics are a favorite experience for many of them. We also have an autoimmune rotation for internal medicine residents, and the combined clinics are an integral part of the month-long rotation.
ADVERTISEMENT
SCROLL TO CONTINUE
Does It Help Patients?
Do combined clinics make a difference for patient care? At the Group for Research and Assessment of Psoriasis and Psoriatic Arthritis (GRAPPA) meeting in 2016, Charis Gn, MD, reported on the Brown University experience with combined dermatology/rheumatology.3 She found that 33% of patients left the clinic with a modification or change in diagnosis, and in 20% of the psoriasis patients, a diagnosis of psoriatic arthritis was made or confirmed. Treatment escalation was prescribed for 41% of the psoriasis patients and 79% of the psoriatic arthritis patients.
In a systematic review of the literature regarding combined clinics focused on psoriasis and psoriatic arthritis, Cobo-Ibáñez et al. found the efficacy of therapy improved for patients involved in such clinics and patient satisfaction was higher with the combined experience than with separate visits.4 Overall, 94% of patients surveyed were very satisfied with the combination visits. Data also suggest that having a rheuma­tologist see these patients kept all joint pain from being labeled as psoriatic arthritis because 46% of the patients with psoriasis and joint pain had another cause for their musculoskeletal symptoms.
The down side? The scheduling wait time and the delay in being seen in clinic. Only 41% of patients were seen at their appointment time, which mirrors our experience at the clinics that employ the different-specialists, same-time strategy.
Samycia et al., from the Dermatology and Rheumatology Treatment Clinic in Vancouver, British Columbia, reported on their experience with a dermatology/rheuma­tology clinic.5 They found the combination of specialists proved very helpful for evaluating patients with rash and multiple systemic symptoms. They also found that 51% of lupus patients with rash had a non-lupus cause of the skin problem, such as rosacea, reminding us rheuma­tologists of the importance of Hickam's dictum—that is, patients can have as many diseases as they darn well please.
There is limited written experience regarding combined clinics in other fields that include rheumatology, and although the literature on combined clinics often suggests benefits to education, no actual data on this aspect appear to exist.
Cons
Challenges have been documented in the literature regarding combined clinics, and we have had our issues as well, such as scheduling. In my ILD/rheumatology clinic, all my patients are combined, but the three ILD pulmonologists have other patients on their schedules. Occasionally, patients needing a combined visit must wait to see both based on the schedule of the pulmonologist. This issue is easiest to handle at clinics employing the different-specialists, same-time strategy.
Productivity is an issue, too. Dermatologists usually see 12–15 patients in a half day while we academic rheumatologists see about half that. On the flip side, patients referred to a combined clinic are usually more complex and, thus, billing is at a higher level.
Billing can prove challenging as well, with most providers billing via their respective service centers. Thus, patients may see two bills.
We have seen turf wars among support staff. For example, if a patient needs a medication preauthorized, which clinic is responsible? The clinic where we spend the most time in general rheumatology, the clinic with experience doing preauthorizations for immunosuppressive medications or the clinic we attend once a month or once a week as part of the combined clinic? We finally divided and conquered by having the combined-clinic staff handle the oral medications and the rheumatology clinic staff handle the biologics and infusions. Diplomacy skills are definitely needed in such situations.
Finally, institutional buy-in is important to obtain the needed space and support staff to make it all work. Combined clinics can be a local or regional draw to the institution, and I suspect they have a favorable downstream revenue profile even though the institution may remain reluctant to admit it.
Final Thoughts
Personally and professionally, I find working in combined clinic settings one of the highlights of my career. Thinking about patients using different specialist eyes has broadened my horizons and has helped me look outside my rheumatology box.
I recently spent two weeks in Saipan as a visiting professor, and the lessons I'd learned from my combined clinic colleagues back home helped me be more useful to the patients and clinicians of the island. I saw several patients with complex psoriasis and a patient or two with ILD. No problem; I knew what to do. All I had to do was ask myself, "What would Dr. Kalus (our derma­tologist) or Dr. Ho (our pulmonologist) do in this situation?"
---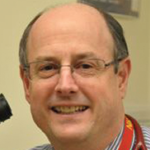 Gregory C. Gardner, MD, FACP, is the Gilliland-Henderson Professor of Medicine in the Division of Rheumatology at the University of Washington, and an adjunct professor of orthopedics and rehabilitation medicine at the University of Washington.
3 Physicians from the Author's Combined Clinics Chime In
Lawrence Ho, MD, an ILD-trained pulmonologist in a combined ILD/rheumatology clinic:
"The combined rheumatology/ILD clinic is a huge benefit to both providers and patients. These visits allow for a true multidisciplinary approach as the rheumatologist and pulmonologist discuss the patient's case either in front of the patient or immediately before or after the clinic visit. This communication is vital for our patients because they all present with complex disease, and often communication is lacking when patients are seen at different clinics or institutions. Not only are these clinics a great convenience for the patients because many travel from a distance and have busy work/life schedules, but the multidisciplinary approach instills trust and confidence in the medical team and the care provided."
Judy Juo, MD, a third-year rheumatology fellow:
"I enjoy working in a combined clinic very much. In a combined clinic, we have the benefit of direct communication between subspecialists, which not only saves us time but also allows us to provide better patient care by coming up with a consistent treatment plan. It also saves the patients time because they do not have to go through the hassle of traffic, finding parking spaces, etc., more than once. Last but not least, I simply enjoy learning from and working with other subspecialists that I would have never met in person otherwise in a huge system like the University of Washington."
Andrea Kalus, MD, a medicine-trained dermatologist and dermatology attending:
"Working in a combined setting provides a renewed joy of practice. Being able to observe elements of medical practice outside my own specialty rekindles the curiosity that drives so many of us to medicine to begin with. Good listening skills, responsive communication and, at times, challenging each other intellectually make sure things don't fall through the cracks. Whenever possible I try to make time to attend the other specialties' grand rounds or regional meetings because it helps deepen my understanding of the clinical content and also forges my relationship with a new community of providers. Referring providers appreciate the combined approach because it avoids treatment plans that have discrepancies. It is experienced almost universally positively by patients, even when they have to wait extra time. It works best as a referral service that provides guidance in diagnosis and treatment. For specialties like dermatology, it may come at the cost of productivity. Despite that, it is a highly desired service for referrals."
References