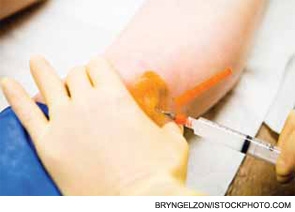 A PA performing a corticosteroid injection of a patient's knee.
Pain is a common manifestation of rheumatic conditions. Patients with rheumatic diseases such as rheumatoid arthritis, lupus, gout, and osteoarthritis require disease-specific management for controlling acute episodes of pain as well as strategies to control ongoing daily discomfort.
Physician assistants (PAs) manage the full spectrum of a patient's disease activity, including pain. However, when a patient's disease activity is attenuated by disease-specific pharmacotherapy and residual pain continues to be a problem, other, more specific therapy may be considered. PAs tailor treatment of pain based on multiple factors that include level of discomfort, type of pain, focal or diffuse nature of pain experienced, and overall impact on function in daily life.
ADVERTISEMENT
SCROLL TO CONTINUE
Functional impairments due to pain often require a multidisciplinary approach to management. The PA may choose to order physical or occupational therapy for patients with ongoing discomfort to address weakness, deconditioning, and other factors that contribute to the patient's pain. Physiatrists and other pain management specialists may be consulted in instances of unresponsive pain to help the patient cope with ongoing discomfort and improve life satisfaction.
PAs recognize that quality of life is an important treatment goal for patients with rheumatic conditions. The Global Assessment of Function (GAF) and Visual Analog Scale (VAS) are two common measurement instruments that PAs may use to assess everyday functional capabilities, track treatment success, and measure overall improvement in disease control. The Health Assessment Questionnaire (HAQ) is another tool that can be used to assess a patient's functional capability regarding activities of daily living. PAs utilize assessment tools such as the GAF, VAS, and HAQ in combination with a thorough history and physical exam to develop a cohesive picture of the patient's everyday comfort and related functionality. In this way, a comprehensive, tailored treatment plan can be implemented that allows for maximal patient outcomes and quality of life.
ADVERTISEMENT
SCROLL TO CONTINUE
In certain instances, such as a knee effusion or osteoarthritis of the knee, the PA may perform interventional procedures such as aspiration and corticosteroid injection; in other situations he or she may consider viscosupplementation. Beyond interventional procedures, various methods of pharmacologic management of ongoing pain are also available to the PA. PAs, in the appropriate clinical setting, will often recommend analgesics, including over-the-counter medications such as acetaminophen and nonsteroidal antiinflammatory drugs (NSAIDs), as well as prescription medications including prescription NSAIDs, tricyclic antidepressants, tramadol, anticonvulsants, or narcotic pain relievers. Topical medications can also be useful in focal pain.