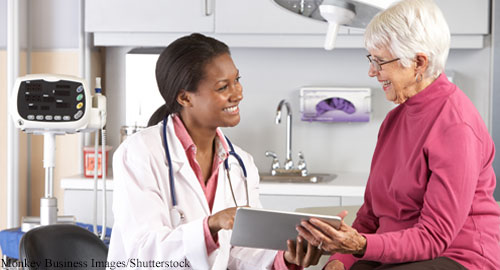 Often, caring for a patient with rheumatic disease requires a team of specialists working together to meet the patient's needs. Social workers can play a variety of roles in helping rheumatology patients manage their conditions, beginning with a patient assessment and counseling.
"By initially conducting a comprehensive psychosocial assessment, a social worker can assess a patient's ability to manage and cope with their illness," says Jillian A. Rose, LCSW, MPH, assistant director, Community Engagement, Diversity & Research, Hospital for Special Surgery, New York.
The assessment includes questions about the patient's concerns, living situation, support network, socioeconomic and health insurance status, coping skills and functioning level, as well as the impact of culture, spirituality and health beliefs on their care. Adena Batterman, MSW, LCSW, senior manager, Inflammatory Arthritis Support and Education, Hospital for Special Surgery, notes, "Having a holistic picture of how the patient functions in these areas informs how we approach interventions. A patient's challenges, coping mechanisms and strengths can profoundly impact their treatment, management and outcomes."
Patient strengths may include the presence of a confidante, financial stability, sense of humor, past experience with adversity and previous success in coping with illness, says Gregory Taylor, MSW, RCSW, medical social worker, Mary Pack Arthritis Program, Vancouver Coastal Health in Vancouver.
Mr. Taylor says some patients experience negative effects of their disease early on in various facets of their lives. "Loss of physical function and/or severe symptoms disrupt education or career plans, employment, recreational pursuits, social opportunities, relationships and intimacy," he says. "The onset of depression, anxiety or damage to self esteem can occur when individuals are side-tracked from their vision of the future."
Social workers can conduct counseling sessions with the patient to help them maintain psychological health and reestablish a sense of meaning to their life. They will work with a patient to renew their self-confidence and formulate realistic expectations about their competency to meet challenges on the horizon, Mr. Taylor says.
Also during these meetings, social workers can help patients prioritize their health concerns. They can coach patients on how to maximize time with their provider, think about treatment goals and empower patients to share what's most valuable to them, Ms. Rose says.
Community & Educational Resources
Chronically ill patients face myriad issues that affect care, such as health literacy, depression, discrimination, access to benefits and entitlement, financial concerns, lack of transportation, challenges with childcare, homelessness and food insecurity.