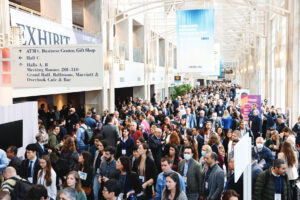 PHILADELPHIA—Abraham Verghese, MD, best-selling author and infectious disease specialist, told a packed hall at the opening ceremony of ACR Convergence that he didn't need to look far to find heroes not much different from the protagonists he has written about in his novels, which blend medical mystery with the passions and tragedies of human existence.
"The heroes and heroines of this story that we've all lived through are all of you," Dr. Verghese, professor of medicine, vice chair for the theory and practice of medicine, and Linda R. Meier and Joan F. Lane Provostial Professor, Stanford University, Department of Medicine, Stanford University, Palo Alto, Calif., said in his keynote address. "All of us have been, in a sense, heroic, because we've shown up."
Dr. Verghese's presentation came in a session that also featured an opening address by ACR President Kenneth Saag, MD, MSc, who touched on progress and challenges in the management of COVID-19, diversity, workforce shortages and mistrust in science and medicine.
Together, the talks struck a dramatic and uplifting note as the field of rheumatology continues to emerge from the pandemic to face an altered landscape, with new hurdles and new opportunities.
Keynote
Dr. Verghese invited the medical professionals listening to think of themselves as characters in a grand story akin to the monster-vanquishing Gilgamesh or the shark-hunting Quint in Jaws; they've had to stand up to the monster of COVID-19, made all the more frightening by its backdrop of political turmoil, the pain of George Floyd's death in police custody and out-of-control wildfires in summer 2020.
"When I would read the statistics of the daily mortality by state, by county, by nation, I kept thinking about the monster being fed by human sacrifice every single day," he said.
He showed pictures of some of the scores of medical staff who died during the pandemic after reporting for work during a time of danger and uncertainty. He recalled the tragedy of victims who had to die alone.
"I remember reading the logs of nurses talking about how they would actually try not to drink too much water so they wouldn't have to go to the bathroom and disrobe in those early days when we didn't quite know how this was spread," Dr. Verghese said.
"We've all been touched," he added. "We are, without a doubt, living through the story of our lives."