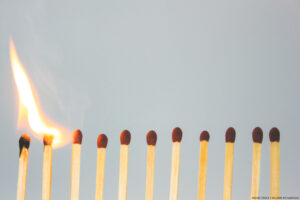 Because rheumatology is a complex cognitive specialty, rheumatologists and rheumatology professionals often see patients repeatedly for acute and chronic problems. Although that may lead to close relationships with patients, it may also make the specialty more prone to burnout, says Peter Y. Hahn, MD, MBA, CEO of University of Michigan Health-West, Wyoming, Mich.
"It can be hard when patients aren't doing well or they don't progress," says Dr. Hahn, a pulmonologist who works with a variety of specialists in his executive role.
"Justifying treatment decisions to insurers, navigating unintuitive health records and [performing] other administrative [tasks] take time away from teaching and cultivating our patient relationships, which are the more fulfilling aspects of being a rheumatologist," says Bethany A. Marston, MD, associate professor in the departments of pediatrics and medicine at the University of Rochester Medical Center, New York. Dr. Marston also chairs the ACR Committee on Rheumatology Training and Workforce Issues.
Insurer stall tactics, such as prior authorization and added paperwork, negatively affect patient care and satisfaction, says Norman B. Gaylis, MD, FACR, MACR, a rheumatologist in private practice in Miami and co-founder of the supplement firm NViroMune.
Electronic health records (EHRs) have caused headaches for anyone in medicine, as has the need to rapidly adapt to telemedicine, says Daniel F. Battafarano, DO, MACP, MACR, chair of the ACR Workforce Solutions Committee and professor of medicine at Uniformed Services University, Bethesda, Md., and adjoint professor of medicine, UT Health-San Antonio, Texas.
"Rheumatologists have become administrative assistants for healthcare systems instead of concentrating on medical solutions and treatment decisions, and listening to patients," Dr. Battafarano says. The result for many has been exhaustion, anxiety, depression and potential medical errors, among other consequences.
All of these tasks lead rheumatologists to work more hours than ever, says Jennifer Moody, ECG Management Consultants, with locations around the U.S. Continuing medical education, academic and administrative responsibilities add to a growing to-do list for rheumatologists, she says.
Staffing changes and shortages have increased the burden of care for physicians across the board. Andrew Concoff, MD, FACR, CAQSM, rheumatologist and chief innovation officer, Exagen, Vista, Calif., says that when he was in private practice, his lead medical assistant retired, his second medical assistant took a job elsewhere, his scheduler moved and his physician assistant went on maternity leave. "I went from the dream team to a green team. I have never worked harder to deliver the highest quality care than I did during the ensuing period, when no one on my clinical team was familiar with their roles," he says.