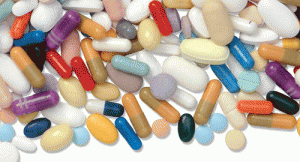 Tofacitinib No Longer Requires REMS
The U.S. Food and Drug Administration (FDA) has approved a supplemental New Drug Application (sNDA) for tofacitinib (Xeljanz 5 mg), eliminating the Risk Evaluation and Mitigation Strategy (REMS) requirement that was initially approved on Nov. 6, 2012, and modified on June 19, 2015.1 The REMS consisted of a communication plan and a timetable for submission of REMS assessments.
Also By This Author
CHS-0214 Shows Biosimilarity to Etanercept
CHS-0214, a proposed etanercept (Enbrel) biosimilar, met its primary endpoint of ACR20 at Week 24 in a Phase 3 clinical trial.2 In this study, CHS-0214 was compared with the safety and efficacy of etanercept in patients with moderate to severe rheumatoid arthritis (RA) that was inadequately controlled with methotrexate (MTX) monotherapy.
ADVERTISEMENT
SCROLL TO CONTINUE
Compared with etanercept, CHS-0214 had no clinically meaningful differences in safety and immunogenicity. This current study will continue for 52 weeks. It's the second Phase 3 trial of CHS-0214, which is manufactured by Baxalta.
In November 2015, CHS-0214 met its primary endpoints for the treatment of patients with chronic plaque psoriasis.
ADVERTISEMENT
SCROLL TO CONTINUE
Adalimumab Biosimilar Accepted for FDA Review
The FDA has assigned a decision due date of Sept. 25, 2016, for evaluating the biologics license application (BLA) for ABP-501, Amgen's adalimumab (Humira) biosimilar.3 Submitted in 2015, patients with moderate to severe RA and moderate to severe plaque psoriasis met primary safety and clinical efficacy endpoints. ABP-501 showed no clinically meaningful differences to adalimumab in Phase 3 clinical trials.
Michele B. Kaufman, PharmD, CGP, RPh, is a freelance medical writer based in New York City and a pharmacist at New York Presbyterian Lower Manhattan Hospital.
References
ADVERTISEMENT
SCROLL TO CONTINUE