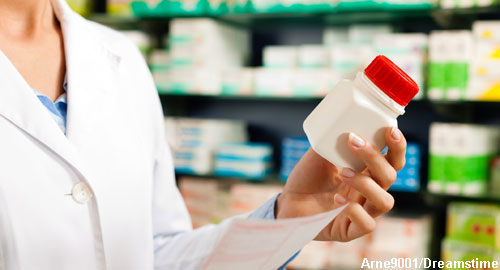 Findings from STIR (Study of Tofacitinib in Refractory Dermatomyositis) show tofacitinib has strong clinical efficacy in patients with treatment refractory dermatomyositis as measured by validated myositis response criteria. Additionally, a corresponding decrease in chemokine levels was found, says study investigator Julie Paik, MD, MHS, a rheumatologist and assistant professor of medicine at Johns Hopkins University School of Medicine, Baltimore. These results were presented at the 2018 ACR/AHRP Annual Meeting.1
You Might Also Like
Also By This Author
Results at a Glance
The 10 study participants received 11 mg of tofacitinib daily, with no other background, steroid-sparing agents. Prior to study entry, participants could have received no more than 20 mg of prednisone daily.
ADVERTISEMENT
SCROLL TO CONTINUE
In the nine subjects analyzed, each achieved the primary outcome, defined as improvement by Week 12 according to the International Myositis Assessment and Clinical Studies. (Note: When results were reported, one participant was still completing the study.) Five of nine (56%) participants demonstrated moderate improvement, and four of nine (44.4%) had minimal improvement based on the total improvement score.
The secondary study outcome measures included the Cutaneous Dermatomyositis Disease Area and Severity Index (CDASI), steroid-sparing effect, safety and tolerability of tofacitinib.2 The results were statistically significant. The mean change in CDASI activity score from baseline to Week 12 was 28 ± 15.4 (baseline) vs. 9.5 ± 8.5 (Week 12), P=0.0005. Additionally, chemokine data on CXCL-9/10 showed a trend toward improvement with treatment, but did not show a statistically significant change from baseline (CXCL9, P=0.09; CXCL10, P=0.06). Myositis autoantibody titers did not show a change in titer after treatment.
ADVERTISEMENT
SCROLL TO CONTINUE
"Although this is a pilot study, our investigation demonstrates that, potentially, tofacitinib is a novel therapeutic agent for the treatment of dermatomyositis," Dr. Paik says. "However, a randomized clinical trial should be completed to confirm our findings."
Established Drug, New Application
In 2016, tofacitinib, a Janus kinase (JAK) inhibitor, was approved by the U.S. Food and Drug Administration (FDA) to treat rheumatoid arthritis. The FDA approved tofacitinib to treat psoriatic arthritis in 2017 and ulcerative colitis in 2018.
According to Dr. Paik, the overall significance of the STIR study is that tofacitinib had a significant effect on both skin and muscle inflammation in dermatomyositis. All study participants were on tofacitinib alone and not in combination with another agent. When the study began, only four patients were on prednisone, and three of those four patients (75%) were able to taper off all steroids.
ADVERTISEMENT
SCROLL TO CONTINUE
Care Implications
Dermatomyositis is a rare and progressive disorder causing muscle weakness and skin rash in most patients. It can also involve multiple body systems, such as the lungs, joints, gut and heart.