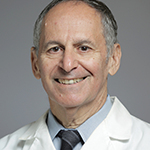 ACR CONVERGENCE 2020—Held Nov. 5–9, the ACR's first fully virtual annual meeting is a wrap, but that doesn't mean it's too late to catch the highlights. Dozens of research abstracts on various aspects of lupus were presented during the fully virtual event, and David S. Pisetsky, MD, PhD, professor of medicine and immunology at Duke University School of Medicine in Durham, N.C., a staff rheumatologist at the Durham VA Medical Center and the very first physician editor of The Rheumatologist, highlighted a select few for us. "I have tried to highlight the context of the work and its importance," he says.
Dr. Pisetsky received his BA from Harvard College, Boston, in 1967 and his PhD and MD from the Albert Einstein College of Medicine, The Bronx, N.Y., in 1972 and 1973. Following house staff training at the Yale-New Haven Hospital, Connecticut, he was a clinical associate at the National Cancer Institute, Bethesda, Md. He joined the faculty of the Duke University Medical Center in 1978, where he has remained since. He served as chief of rheumatology and immunology at Duke from 1996–2007 and chief of the rheumatology section at the VA from 1978–2019.
ADVERTISEMENT
SCROLL TO CONTINUE
Dr. Pisetsky has conducted basic and translational research on the pathogenesis of systemic lupus erythematosus (SLE) and the immunological properties of nuclear macromolecules. Most recently, he has investigated the immune activities of microparticles, as well as the immunochemical properties of antinuclear antibodies. In 2001, he was awarded the Howley Prize from the Arthritis Foundation for his work on the immune properties of DNA. In 2016, he received the Presidential Gold Medal from the ACR.
From 2000–05, Dr. Pisetsky served as editor of Arthritis & Rheumatism, and from 2006–11, he was the first physician editor of The Rheumatologist. He has been an associate editor of the Annals of the Rheumatic Diseases since 2012. He served as the president of the United States Bone and Joint Initiative from 2015–17.
ADVERTISEMENT
SCROLL TO CONTINUE
Dr. Pisetsky's picks for the top research in lupus presented at ACR Convergence 2020:
Abstract 0242—Autoantibody Profile and Ethnicity: Risk Factors for Accelerated Development of Lupus Nephritis
Dr. Pisetsky: In the study of SLE, anti-DNA antibodies have garnered the most attention as an anti-nuclear antibody (ANA) that can promote glomerulonephritis, putatively on the basis of immune complex deposition. The role of other ANAs in the pathogenesis of nephritis has been less certain. As this study showed, the combination of antibodies to Sm, Ro and RNP antigens (so-called RNA-binding proteins or RBPs) is associated with an increased risk of renal disease, especially in patients of African ancestry. I think this study is important in demonstrating the interplay of ethnicity and serological findings and showing the value of looking at combinations of ANAs rather than single specificities for clinical correlations. Despite tremendous advances in the development of molecular biomarkers for SLE, old fashioned serology, along with demographic findings, can provide important prognostic information and help in risk assessment, pending validation of the newer technologies.
ADVERTISEMENT
SCROLL TO CONTINUE
Abstract 0246—Extreme Fatigue in Patients with Systemic Lupus Erythematosus and Neuropsychiatric Symptoms
Dr. Pisetsky: Fatigue is one of the most common and disabling symptoms of SLE, although it is not part of the classification criteria nor most indices for disease activity. This study investigated the possible association of fatigue with neuropsychiatric manifestations of SLE (NPSLE). Attribution is always an issue with NPSLE, but the study failed to find differences in the frequency of fatigue irrespective of the presence of NPSLE manifestations. Overall, approximately 75% of patients were fatigued, with about 50% extremely fatigued. In view of the impact of fatigue on quality of life, elucidating the origin of this symptom and developing effective therapies are important priorities. It may also be worthwhile to include fatigue as an outcome measure in clinical trials of new agents and, thereby, help develop patient-centered treatment approaches.
Abstract 0251—Dynamics of Anti-Nuclear Antibodies in a Longitudinal Study of a Large Systemic Lupus Erythematosus Cohort
Dr. Pisetsky: In the new ACR/EULAR criteria for the classification of SLE, a positive ANA test is required for classification, with clinical manifestations receiving points to reach a numerical threshold for classification. Although this approach necessitates positive serology for classification, a number of studies have recently suggested that patients with SLE may lack a positive ANA, either because of assay issues or the effects of treatment or natural history of disease on the magnitude of ANA responses. Using a large number of patients from the SLICC [the Systemic Lupus International Collaborating Clinics] cohort, this study showed that about 85% of patients were ANA positive by an IFA (immunofluorescence assay) or an ELISA at each time point assessed over the first five years. Those patients who had a least one negative ANA test had features of milder disease in terms of disease activity or use of steroids and immunosuppressive agents. This study supports recent data about variability of ANA status even in early disease and points to a role of ANAs in mediating disease manifestations.
Abstract 0848—Delineation of a Proinflammatory Cytokine Profile Targeted by Janus Kinase 1/2 Inhibition Using Baricitinib in a Phase 2 Systemic Lupus Erythematosus Trial
Dr. Pisetsky: Baricitinib is a novel, targeted synthetic DMARD (tsDMARD) which can inhibit Janus kinase (JAK) 1 and JAK2 signaling and therefore impact simultaneously on a number of cytokines. As such, this agent differs from therapies directed at a single cytokine by monoclonal antibodies or soluble receptors. This study characterized levels of cytokines in patients with SLE from a Phase 2 study of 4 mg of baricitinib compared with a control group. The results indicated a significant decrease in levels of serum IL-12/23p40 and IL-6 at week 12, which was maintained through week 24. In contrast, levels of IFN-α and IFN-γ were not affected. Future studies with baricitinib and other novel agents will help define the role of different cytokines in the pathogenesis of SLE and the utility of cytokine assays as biomarkers for assessing therapeutic efficacy.
Abstract 0986—BIIB059, a Humanized Monoclonal Antibody Targeting Blood Dendritic Cell Antigen 2 on Plasmacytoid Dendritic Cells, Shows Dose-Related Efficacy in a Phase 2 Study in Participants with Active Cutaneous Lupus Erythematosus
Dr. Pisetsky: A striking feature of SLE is the so-called interferon signature, a pattern of gene expression of peripheral blood cells suggesting a powerful effect of type 1 interferon (IFN). Targeting IFN can be accomplished by direct binding of the cytokine, blockade of the IFN receptor or inhibition of cytokine production by plasmacytoid dendritic cells (PDCs), which are major producers of this cytokine. This study assessed the effects of a humanized monoclonal antibody (BIIB069) that binds to blood dendritic cell antigen 2 (BDCA2), a receptor uniquely expressed on PDCs. The data presented indicate that BIIB059 can reduce activity of cutaneous lupus erythematosus (CLE). Future studies will be needed to determine which of the strategies to reduce IFN activity is the most effective and, given the key role of PDCs in immune responses, the most safe.
Abstract 0988—Two-Year Results from a Randomized, Controlled Study of Obinutuzumab for Proliferative Lupus Nephritis
Dr. Pisetsky: In view of the abundant production of autoantibodies in SLE, B cells have long been considered an important target of therapy. Although belimumab (anti-BLyS/BAFF) was approved for the treatment of active, autoantibody positive SLE, clinical trials of the anti-CD20 monoclonal antibody rituximab (RTX) did not reach trial endpoints. This result has been surprising because elimination of B cells would seem an effective strategy to reduce the various roles that B cells can play in pathogenesis. One explanation for the failure of RTX in clinical trials is inadequate reduction of B cells. This study investigated the effects of a humanized type II anti-CD20 monoclonal antibody obinutuzumab (OBI) in lupus nephritis; OBI can produce more complete B cell depletion than RTX. As the data indicated, OBI treatment showed a higher frequency of complete renal responses than controls. These findings suggest that B cell depletion can be effective in the treatment of SLE, with the degree of depletion influencing outcomes.
Abstract 1828—Comprehensive Efficacy of Anifrolumab Across Organ Domains in Patients with Active SLE: Pooled Data from 2 Phase 3 Trials
Dr. Pisetsky: SLE is a clinically and serologically heterogeneous disease. This study assessed the effects of anifrolumab, a monoclonal antibody to the interferon receptor, on various organ domains in two phase 3 clinical trials. The results indicated efficacy for musculoskeletal and mucocutaneous manifestations, which were common in the trial populations. Interestingly, these studies assessed arthritis in terms of tender and swollen joint counts, suggesting that synovitis may be more prominent in SLE than sometimes thought.
Abstract 1824—Selective Expansion of Regulatory T Cells in Patients with Systemic Lupus Erythematosus by a Novel IL-2 Conjugate, NKTR-358
Dr. Pisetsky: This study evaluated the effects of administration of a polyethylene glycol (PEG) conjugate of a recombinant human IL-2 molecule on T regulatory (Treg) cell numbers. Increasing Treg cells has the potential to downregulate autoimmune responses and, thus, represents a novel treatment approach. The agent in question, NKTR-358, differs from native IL-2 in the nature of receptor binding and duration of biological activity. As the data indicated, NKTR-359 can produce a dose dependent increase in the population of regulatory cells known as CD25bright Tregs. Because this agent did not increase CD4+ or CD8+ conventional T cell numbers, this strategy may have clinical utility.
---
Visit the ACR's Meeting Abstracts site for more research presented at ACR Convergence 2020.
[Back to the Resource Center.]