* Conflation of a title ["Pisetsky's Rules vs. the Peltzman Effect"] in Dr. Pisetsky's July 2009 "Rheuminations" column.
You Might Also Like
Explore This Issue
December 2011
Also By This Author
If you're a scientist who has the opportunity to do nonscience writing, it's an unbelievable luxury," says David S. Pisetsky, MD, PhD, professor of medicine and immunology at the Duke University Medical Center in Durham, N.C., and chief of rheumatology at the Durham VA Medical Center. A consummate scientist and physician—a dual appellation that "still gives him a thrill"—Dr. Pisetsky also relishes the writing craft, a discipline to which he has brought heart and mind for almost 20 years.1
ADVERTISEMENT
SCROLL TO CONTINUE
During that time, through short-story and first-person pieces, he honed his style and voice.2 Then, during his time as editor of Arthritis & Rheumatism (A&R) from 2000–2005, he also began writing more scientific editorials and commentaries. His reasons, he says, were to draw attention to and make the scientific work engaging. "Science writing is (necessarily) the driest writing in the world," explains Dr. Pisetsky. "When you write for scientific journals, you cannot put emotion into your words. Instead of 'dramatic increase,' you must write 'a two-fold increase.'"
So it's no wonder that, just as he was finishing his tenure as editor of A&R, his interest was piqued by the ACR's plans to start a news publication. The opportunity to be the launch editor for The Rheumatologist (TR)—and to write monthly columns as physician editor—was akin to being "a kid in a candy shop," says Dr. Pisetsky.
ADVERTISEMENT
SCROLL TO CONTINUE
He decided to apply, with the encouragement of Shawn Morton, vice president and publishing director, medicine, at Wiley-Blackwell in Hoboken, N.J., the ACR's publishing partner on A&R, TR, and Arthritis Care & Research. The two had worked closely on A&R, and Morton felt that Dr. Pisetsky would be the perfect choice for TR's first editor. "He already had a journalistic sense," notes Morton. "At the ACR meeting in San Diego in 2005, I told him that I had a script but I needed a leading man before I could begin shooting."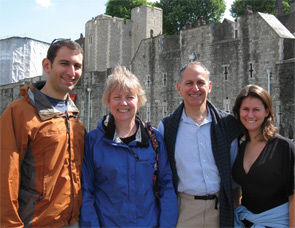 The Pisetsky family during a visit to the Tower of London: (left to right) son Mike, wife Ingrid, Dr. Pisetsky, and daughter Emily.
Dr. Pisetsky went through the ACR's application process, was appointed to the post, and then worked with the editorial staff in Hoboken to finalize a plan for the new magazine, including the layout and design. Dawn Antoline, the Wiley-Blackwell editor who has worked with Dr. Pisetsky on TR since 2006, says that, "in addition to being incredibly knowledgeable, Dr. Pisetsky is very creative, and he embraced every aspect of TR, from picking article topics and editing to writing and selecting the art for each issue. He has been wonderful to work with and has left his mark on the publication." Since 2006, readers have looked forward each month to his column, dubbed "Rheuminations," on a wide range of topics from drug safety to the giants of medicine.3,4 He's brought more than lively, entertaining, and clear-voiced monthly columns to TR. The general consensus from colleagues, the ACR, and Wiley's editorial staff is that he's put the "Pisetsky stamp" on a magazine whose table of contents reflects his scientific curiosity, openness, and accessibility.