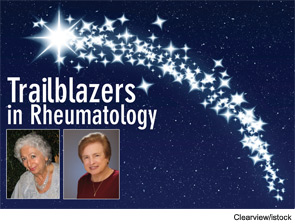 Rodanthi C. Kitridou, MD & Bevra H. Hahn, MD
Since the beginning of their medical careers, Rodanthi C. Kitridou, MD, and Bevra H. Hahn, MD, have seen a huge shift in the demographics of the field.
"When I came to the United States in 1963 for my residency, the U.S. had few female physicians and even fewer female rheumatologists," says Dr. Kitridou. "It is remarkable to have seen how the subspecialty has grown through the years."
In fact, when Drs. Kitridou and Hahn began their careers, only about 7% of physicians were female.1 Today, the number of female physicians has jumped to nearly 30% of the workforce, according to data from the American Medical Association. And the subspecialty of rheumatology has seen an even greater shift in the percentages, with females making up more than 60% of the current rheumatology fellows-in-training, as measured by the National Resident Matching Program. Both Drs. Hahn and Kitridou credit the influx of women entering medicine as the catalyst for gender shift within the subspecialty.