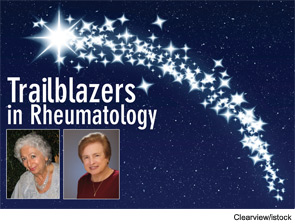 Rodanthi C. Kitridou, MD & Bevra H. Hahn, MD
Since the beginning of their medical careers, Rodanthi C. Kitridou, MD, and Bevra H. Hahn, MD, have seen a huge shift in the demographics of the field.
"When I came to the United States in 1963 for my residency, the U.S. had few female physicians and even fewer female rheumatologists," says Dr. Kitridou. "It is remarkable to have seen how the subspecialty has grown through the years."
In fact, when Drs. Kitridou and Hahn began their careers, only about 7% of physicians were female.1 Today, the number of female physicians has jumped to nearly 30% of the workforce, according to data from the American Medical Association. And the subspecialty of rheumatology has seen an even greater shift in the percentages, with females making up more than 60% of the current rheumatology fellows-in-training, as measured by the National Resident Matching Program. Both Drs. Hahn and Kitridou credit the influx of women entering medicine as the catalyst for gender shift within the subspecialty.
Drs. Hahn and Kitridou have witnessed these tides turn from the beginning. Certainly, their experiences and example can serve as a guide for the next generation, leading the way and setting the tone for future female rheumatologists.
Dr. Kitridou was born in Greece and trained at Hahnemann Medical College and Hospital (now Drexel University). She directed the rheumatology department at Hahnemann for five years, prior to joining the University of Southern California (UCS) as directress of clinical rheumatology, where she eventually became a professor of medicine. Dr. Kitridou has received numerous honors throughout her career, including being elected a master of the ACR in 2003 and receiving the Humanitarian Award of the Lupus Foundation of America, as well as an Honorary Life Membership. She retired from USC in 2008 and now volunteers at the lupus clinic of Los Angeles County + USC Medical Center.
"I chose rheumatology because it was new and exciting," says Dr. Kitridou. "In medical school, I had precious little exposure to rheumatology. During my residency at Hahnemann, a very inspiring young associate taught rheumatology. That inspired me to pursue this subspecialty."
"In the early days, there were more traditional notions about women as professionals," Dr. Kitridou continues. "There were lots of challenges in terms of establishing and building a career. But, even back then, I can give you many examples of wonderful, grateful patients and colleagues who helped me grow as a rheumatologist."