Over the last two months, "From the College" provided insight on the Five Rs of physician leadership: recruitment, realization, recognition, redirection, and retention. The Five Rs give great guidance in managing the leadership process, yet they will be far less effective if you lack the ability—or willingness—to successfully communicate with your employees.
Whether managing a small practice or a large department, highly successful physician leaders have learned how to communicate effectively with their staff members. They have discovered and embraced the fact that not everyone communicates—or responds to communication—in the same way, and they have taken the time to adjust their own communication styles to ensure their employees will help them successfully manage their practices, departments, and institutions. The challenge? There are many communication styles, and each of your employees is uniquely different from the others. The good news, according to Timothy J. Keogh, PhD, is that a physician leader can place most employees, supervisors, and coworkers into four categories. Once you learn about these communication types, you will be able to maximize your conversations for the most effective practice or department.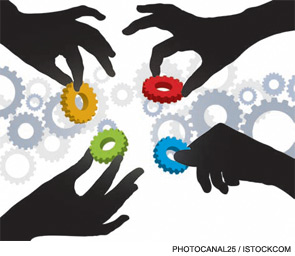 There are four main communication styles: sensor, feeler, thinker, and intuitor.
Dr. Keogh is assistant professor of Citadel School of Business Administration in Charleston, S.C.; adjunct associate professor of Health Systems Management at Tulane University School of Medicine in New Orleans; and featured speaker at the American College of Physician Executives' 2008 Annual Spring Institute. He is also a contributor to the book, Enhancing Physician Performance: Advanced Principles of Medical Management, where he writes, "Insight into our own style begins to give us the fundamental skill of how to adjust, or flex, our style to the style of others. Without this insight, we often create the personal barriers to communication, which causes us to think, 'I don't know what it is about this person, but we just don't see eye-to-eye.' This invisible barrier comes between two people with different styles and creates a shield through which our words fail to pass."
Dr. Keogh suggests that there are four main communication styles, and it is the responsibility of the physician leader to identify his or her style and then work to flex to the styles of each of his or her employees.
Four Styles
1) The Sensor is a person who likes to be seen as powerful. He or she is often busy and will likely greet someone who enters his or her office with a short, to-the point salutation like, "What do ya got?" To others, the Sensor can be seen as impatient and dominant. To communicate with the Sensor, a physician leader should get right to the point, have a bottom line, emphasize action, and give concrete examples.