The months preceding the ACR meeting have been difficult for physicians and other healthcare providers in the United States as Congress debated the best way to reform our healthcare system, or at least healthcare insurance. While medicine is ultimately a matter that should be decided by patient and physician (or other healthcare provider), the political process seemingly neglected the opinions of this essential dyad. Rather, the discussion emanating from Washington involved the opinions of pundits, think tankers, spinmeisters, and other masters of the media whose job is to fashion our views.
You Might Also Like
Explore This Issue
January 2010
Also By This Author
I am a regular reader of the ACR Advocacy List Serve. I recommend it to anyone who would like to hear what rheumatologists say about their careers and lives. Always articulate, often impassioned, and sometimes cantankerous, the list serve provides a vital service for the ACR by providing a forum for members to express their views on key issues affecting our profession. Sometimes, the emails fly fast and furious. If, by chance, I have my BlackBerry strapped on my belt, my side zings and buzzes just about every minute as the list serve regulars sound the tocsin about one or another hot-button issue. The issues usually relate to the evil, nefarious, or unthinking ways of payers, whether public or private.
ADVERTISEMENT
SCROLL TO CONTINUE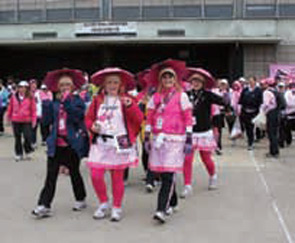 Participants in the 2009 Philadelphia Breast Cancer 3-Day Walk were prepared for the cold, rainy weather.
What About Patients?
While I was in Philadelphia, I began to think about how the founders of the ACR would view our current state. How would they weigh in on issues such as universal healthcare coverage and the merits of the public versus the private sector in assuring that our citizens have affordable healthcare and do not risk bankruptcy when illness strikes?
Philadelphia is an old city and the glitter of high-rise hotels like the Marriott and Loews cannot hide the troubles of its people. While it has some of the toniest urban and suburban enclaves in the country, Philadelphia has more than its share of the poor. Many on Market Street looked bedraggled and dressed in a style I called urban bundle: two hooded sweatshirts accessorized by a Phillies baseball cap and a shiver.
ADVERTISEMENT
SCROLL TO CONTINUE
Near the Dunkin' Donuts where I had my breakfast, every day a woman stood next to her shopping bag looking out into the street with fearful and vacant eyes. She wore a dirty wig and had red lipstick smeared wildly across her mouth. In front of her on the sidewalk, a legless woman shimmied and shook in a wheel chair as a man lip-synched to a Motown recording. What kind of healthcare did these people want or need? Have healthcare providers served as their advocates?