You Might Also Like
Explore This Issue
September 2014
Also By This Author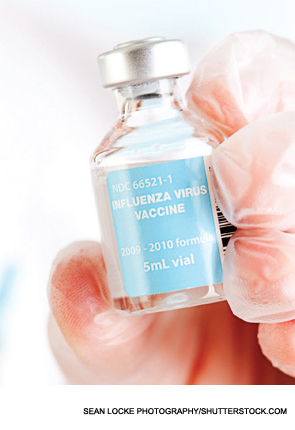 Specialists share equal responsibility with primary care providers for ensuring that immunocompromised patients are vaccinated, according to the recent guidelines issued by the Infectious Diseases Society of America.
ADVERTISEMENT
SCROLL TO CONTINUE
The 2013 IDSA Clinical Practice Guideline for Vaccination of the Immunocompromised Host states that specialists are in a "pivotal position to ensure vaccination by administering vaccines or providing specific advice to patients and primary care providers.1 Specialists should educate patients and members of their household on the importance of vaccination of household members for the protection of the immunocompromised patient."
Leonard Calabrese, DO, professor of medicine in the department of rheumatic and immunologic diseases at Cleveland Clinic Lerner College of Medicine, said that immunocompromised patients often are not vaccinated. "There is a gaping hole in immunizations being administered," he said. Some rheumatologists think immunizations lie outside the scope of their practice, given that vaccines can be expensive or difficult to store. "We do not have a systematic approach to vaccines in our profession that allows for optimal vaccine administration," Dr. Calabrese said.
ADVERTISEMENT
SCROLL TO CONTINUE
Gil Melmed, MD, MS, director of clinical inflammatory bowel disease at Cedars-Sinai Medical Center in Los Angeles, agreed. "Specialists are the ones that call the shots for the therapies that suppress the immune system, but often we, as specialist communities, may deflect the responsibility for vaccinations to primary care providers. We have learned from study after study from around the world that patients in specialty care clinics don't get the vaccinations that they should be getting."
There are numerous reasons why primary care physicians may not be vaccinating patients who are being treated with immunosuppressive therapy. Some are unfamiliar with newer therapies, such as biologics, and others think that vaccines are unsafe or ineffective for patients who are immunocompromised. Patients on immunosuppressive therapy, however, have a lot to gain with appropriate vaccination. These patients are predisposed to an increased risk or severity of vaccine-preventable infection, and they may have greater exposure to pathogens because of their more frequent contact with medical facilities, the IDSA document states.
Although the response rates to certain vaccines may be somewhat blunted when patients are on immunosuppressive therapies, particularly such immunomodulators as methotrexate or other DMARDs, that should not be used as an excuse to skip vaccinations, Dr. Melmed said. "These patients absolutely should be vaccinated according to recommended guidelines, [because] some protection is better than none."
ADVERTISEMENT
SCROLL TO CONTINUE
Additionally, concerns that a vaccine may trigger a disease flare in patients with chronic inflammatory diseases seem unfounded. According to the IDSA guidelines, there is a preponderance of clinical evidence that vaccines are not important disease flare triggers and should not be withheld for that reason.