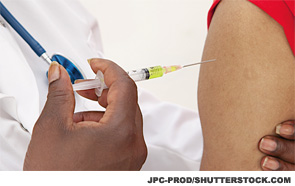 Patients with rheumatic diseases are at a higher risk for infection as a function of the disease process. The immune system effects of biologic and steroid medications used in treatment can exacerbate this.
Because of this, the use of vaccines to prevent illness is an important intervention in these individuals. However, there is some concern among physicians that we don't understand how vaccines, medications and the disease-related impacts on the immune system interact in most cases.
ADVERTISEMENT
SCROLL TO CONTINUE
Several Questions
"Several questions remain, including the role of biological agents on hampering the immune response to vaccines, whether this can influence the efficacy of vaccines and more detailed information about the safety profile of vaccines in this particular subgroup of patients," says Professor David Isenberg, from the Centre for Rheumatology at the University College of London in the United Kingdom. "There are published recommendations on the use of vaccination in patients with rheumatic disease on conventional immunosuppressives. There are no specific recommendations for vaccination in patients treated with biologics."
To address some of these issues, Prof. Isenberg and Isabel Ferreira, MD, Hospital Prof. Doutor Fernando Fonseca in Amadora, Portugal, published a review of the literature on the subject in the Annals of Rheumatic Diseases.1
ADVERTISEMENT
SCROLL TO CONTINUE
Little Available Guidance
"There really wasn't much guidance available, but I wanted to see exactly how much information existed," says Dr. Isenberg. "While it isn't entirely a data-free area, there is still a very restricted amount of information out there, and that is an issue. The more we got into this research, the more holes we found in our knowledge."
Their research did result in some specific suggestions. One is that it's important to complete a thorough assessment of vaccination status before beginning the biologic regimen.
Assessment Before Starting "
ADVERTISEMENT
SCROLL TO CONTINUE

Dr. Kotton
Prior to administering immunomodulatory therapy, it would probably be best if patients were given any needed vaccinations at least a month prior to the initial dose, especially for live viral vaccines," says Camille Kotton, MD, clinical director of transplant infectious diseases at Massachusetts General Hospital in Boston.
She further suggests that rheumatologists may want to consider referring their patients for an evaluation by an infectious disease (ID) specialist prior to beginning the medication.
"As an immunocompromised host ID specialist, I believe such an evaluation can be very helpful when patients are about to undergo immunomodulatory therapy," she says. "When I see such patients, they are assessed for latent infections, such as tuberculosis, and other endemic pathogens and prophylaxis issues are considered. I evaluate their vaccination and serologic status, and then administer the necessary vaccines."
Timing Considerations
The Annals article suggested that timing of vaccinations can be important, may change depending on the type of medication being used and should be contemplated only during stable disease.