You Might Also Like
Explore This Issue
March 2014
Also By This Author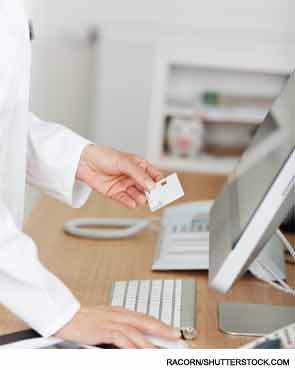 ADVERTISEMENT
SCROLL TO CONTINUE
It is essential that every physician practice verify the insurance eligibility and benefits of patients before services are provided. There are many missed opportunities to secure income and reduce staff time when patient eligibility is not verified at the time of check in. Training staff to complete this task can help boost revenue at time of service and save time on the back end.
As a general rule, new and returning patients should always bring their insurance identification card to every visit. The front desk staff is responsible for checking in patients and should make it a priority to check the patient's insurance carrier to ensure the information on the card is up to date and correct for that date of service. This can often be accomplished by checking the insurance carrier website or calling a benefits representative. Some practice management systems and clearinghouses can verify patient eligibility. If staff encounters problems with a patient's insurance verification, policies should be in place to have the patient pay for the services in full and file the insurance claim themselves. For those with financial need, there should be an option for patients to make payment arrangements.
ADVERTISEMENT
SCROLL TO CONTINUE
Office staff should confirm whether the patient's plan will consider the specialist an in-network or out-of-network provider. This is vital, because it will affect who is responsible for the main part of the bill. The primary advantage of determining that the physician is an in-network provider is to allow the physician to receive a negotiated or discounted rate for the services, and the patient's insurance generally picks up a larger portion of the bill. If the physician is an out-of-network provider, then the patient will need to pay their portion of the bill at the time of the visit.
Here is an example of how the network affects payment. A visit to an in-network physician may cost $100 for an office visit. The insurance company has contracted with you to discount this visit to $60. If the insurance company covers 80% of the cost, the patient responsibility would be $12. Compare that with an out-of-network physician who also charges $100 for the visit. Without the negotiated rate from the insurance company, the patient's cost will remain $100. For out-of-network providers and care, the insurance may cover only 50%, making the patient's responsibility $50.
ADVERTISEMENT
SCROLL TO CONTINUE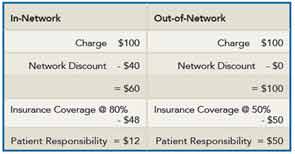 click for large version
There is also co-pay for a specialist visit, which is sometimes different from the co-pay for a primary care encounter, and staff should be aware that this will need to be verified at each visit. Additionally, there should be verification if the services will require a referral or pre-authorization.