For the second year, the ACR's annual Hill Day advocacy event in Washington, D.C., was held in video conferences rather than conference rooms.
You Might Also Like
Also By This Author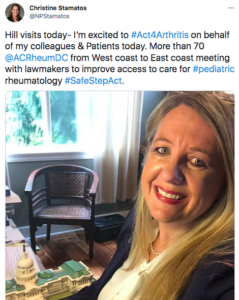 On May 20, ACR volunteer leaders, including members of the Board of Directors and committees, convened more than 100 video meetings with Congressional leaders to advocate on behalf of rheumatology patients and providers. More than 70 ACR representatives shared rheumatology perspectives on the need to reform step therapy and the importance of practitioner loan repayment to alleviate pediatric workforce shortages. Many continued their conversations and shared their experiences on Twitter using the hashtag #Act4Arthritis and tagging the new ACR advocacy handle @ACRheumDC.
ADVERTISEMENT
SCROLL TO CONTINUE
Advocacy in Action
"I felt so lucky to be in the 'room where it happens.' It is amazing to have the opportunity to talk about our specialty with the people that set the agenda for our country," says Karen Onel, MD, chief of the Division of Pediatric Rheumatology, Hospital for Special Surgery (HSS), and a professor of clinical pediatrics, Weill Cornell Medicine, New York.
"I thank the ACR for the opportunity to discuss a field that I love and feel passionately about with the people with the power to make our needs and those of our patients heard," Dr. Onel adds. "If you have the opportunity to participate you should grab the opportunity. Advocacy in action!"
ADVERTISEMENT
SCROLL TO CONTINUE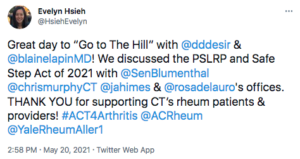 Participants connected with their members of Congress to talk about the importance of passing the Safe Step Act and funding the Pediatric Subspecialty Loan Repayment Program (PSLRP), which was authorized in the CARES Act.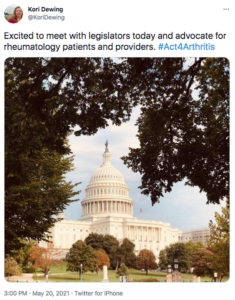 "Although it can seem initially intimidating to be meeting with members of Congress or their staff, my experience has been quite the opposite. I have been welcomed and encouraged to explain my concerns, so that my elected officials have a better understanding of how these issues affect me, their constituent," says Kori Dewing, DNP, ARNP, Division of Rheumatology, University of Washington, Seattle. "It is really an easy process to participate in these Capitol Hill visits."
The ACR advocacy and government affairs staff can provide materials and training to give members the needed background and confidence to present effectively, she notes.
ADVERTISEMENT
SCROLL TO CONTINUE
"I truly enjoyed the conversations I had with the members and their staff this year. We all suffer from the day-to-day clinic frustrations with patient access. The opportunity to describe how these issues impact our patients to members of Congress—who then not only understand, but have the power to push forward patient-centered legislation—is powerful. We can't afford to simply sit back and hope change happens. Legislators need to hear that this is a priority for their constituents," Dr. Dewing says.