Other students are using their strengths and talents to help in less expected ways. For example, Shelbee Rassler scored an arrangement of Burt Bacharach and Hal David's What the World Needs Now Is Love. To play it, Ms. Rassler created a virtual orchestra of 75 classmates and friends. She says she orchestrated this performance to send out a message of hope during these desperate times.9
You Might Also Like
Explore This Issue
June 2020
Also By This Author
Similarly, the Rotterdam Philharmonic Orchestra, through the miracle of teleconferencing, managed to perform part of the fourth movement of Beethoven's Ninth Symphony, which is sometimes referred to as "Ode to Joy." The 19 musicians, all performing from home with AirPods or earbuds in their ears to keep the beat, came together because they wanted to do something for the rest of us. As an introduction to their recording, the musicians wrote:
ADVERTISEMENT
SCROLL TO CONTINUE
We're adjusting to a new reality, and we'll have to find solutions in order to support each other. Creative forces help us. Let's think outside the box and use innovation to keep our connection and make it work, together. Because if we do it together, we'll succeed.10
This is a great message for all of us. Most healthcare workers are accustomed to working in teams. When I see a patient in my clinic, I am one of three or four people that patient might see, from the security guard at the front desk when the patient arrives to the patient services coordinator who ensures the patient gets the tests and appointments they need. Now, we are all learning how to work together while we are physically apart. But we are still a team.
ADVERTISEMENT
SCROLL TO CONTINUE
Why We Do It
All of these groups remind us that healthcare workers do not have a monopoly on commitment to service. Like you, I have been inundated by messages from panicked patients requesting information on how COVID-19 might affect their health. Because virtually all of my patients are immunosuppressed, their panic is completely understandable, especially given the almost uninterpretable surfeit of information that is publicly available. I tell all of my patients the same thing: You probably are at increased risk, but we haven't seen a flood of patients with rheumatic disease hospitalized with COVID-19. Many of my patients heard this and asked me to provide them with a letter to excuse them from work. One of my patients, a lieutenant in the Baltimore Police Department, thanked me for the information and said it made him feel more comfortable with the prospect of being redeployed to the streets.
When we think of service, we should think not only of first responders, but also of the clerks who restock the grocery shelves almost as fast as they are emptied, and the men and women who continue to bring the packages I order online to my home, day after day. In states under complete lockdown, where residents are instructed to leave their homes only for essential services, we are left with a much clearer understanding of who really keeps our nation running. I just hope we remember this lesson when the smoke clears.
I also hope we use this as a reminder of why we became healthcare providers to begin with. Many of us are being asked to return to the wards, often decades after we left internal medicine behind. Some of us have been asked to care for routine patients and free better trained (or at least, more recently trained) physicians to care for more complex patients; others will provide direct patient care for patients infected by COVID-19. This prospect is, frankly, frightening. But I know that this is the sort of work we were born to do.
ADVERTISEMENT
SCROLL TO CONTINUE
Tatiana Prowell, MD, an oncologist at the Sidney Kimmel Cancer Center at Johns Hopkins, put it this way: "Doctors, remember when we all got accepted to med school because we were creative problem-solvers determined to bend the arc of human disease (and not just close EHR encounters)? This is our moment. It's go time."11
One final reminder: Allison Swendsen, a nurse in the emergency department of Morristown Medical Center, New Jersey, heard a knock at the window. When she looked up, she saw a man holding a sign over his head with his left hand, his right hand over his heart and tears streaming down his face. The sign read: "Thank you all in emergency for saving my wife's life. I love you all." His wife was being discharged from the hospital, after having been admitted for management of COVID-19, and he wanted everyone to know how grateful he was for the care she had received.
The nurse posted the photograph on Instagram, with a caption that read: "I don't know him. I don't know his wife, but throughout the last 13 years as a nurse, I realized, this is why we do it—times are tough, but we make a difference."12
Stay safe. Be strong.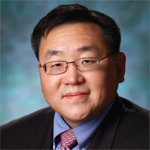 Philip Seo, MD, MHS, is an associate professor of medicine at the Johns Hopkins University School of Medicine, Baltimore. He is director of both the Johns Hopkins Vasculitis Center and the Johns Hopkins Rheumatology Fellowship Program.