"No!" she screamed.
You Might Also Like
Explore This Issue
June 2020
Also By This Author
My niece just finished her first semester as a freshman at the University of St. Andrews in Scotland. If the institution sounds familiar to you, it may be because you remember a particularly famous graduate—William Windsor, who sometimes goes by his formal titles: Duke of Cambridge and heir to the British throne.
ADVERTISEMENT
SCROLL TO CONTINUE
When COVID-19 was first declared an epidemic, her institution informed students that classes would continue, business as usual. After four of her classmates were diagnosed with COVID-19, however, the school entered crisis mode. Students were informed the neighboring town might go into lockdown. They could not guarantee school services would continue. Expatriate students who had the means to leave should do so, immediately.
Evacuating my niece from Scotland was only part of the problem; there was also the small matter of where to evacuate her to. After weeks of negotiation with my parents, requiring Middle East-level negotiating skills, my sister had finally prevailed upon my parents to leave their condominium in New York City and temporarily relocate to her home on Long Island.
ADVERTISEMENT
SCROLL TO CONTINUE
These plans did not take into account the possibility of having my niece move back simultaneously. Given the situation at her college, we assumed my niece could be an asymptomatic carrier of SARS-CoV-2. If she wasn't now, we assumed she would be; all of her friends were also discharged from their respective colleges, and there was likely only so long she could be back at home before she would start getting roped into coronavirus parties—yes, that is a thing.1
We decided it would be safest to have her fly to Baltimore to stay with me for the 14 days it might take for her to become symptomatic or clear the viral infection. Because I am a healthcare provider and my niece is a college student, we were essentially cohorting the two highest risk family members in the same household to improve my parents' chance of riding out the pandemic unscathed.
Knowing my niece was staying with me completely changed my outlook on life. Beforehand, I was relatively casual about everything, smiling benignly at people in the supermarket who seemed to be preparing for a nuclear holocaust. After it became clear that my niece might be staying with me, I became one of those people.
ADVERTISEMENT
SCROLL TO CONTINUE
I descended on the local grocery stores like the Furies, grabbing at frozen chicken fingers and dried beans wherever I could find them. And cleaning products!—"This is not a time for organic," a fellow Doomsday prepper muttered under her breath as she passed by, while maintaining a socially respectable distance. I also started to build a Jenga tower of paper products in my basement: How much toilet paper do teenagers go through, anyway?
While I was busy scrubbing my house with the most anti-organic cleanser I could lay my hands on, my niece had landed in Heathrow, where she waited to board her connecting flight to Dulles International Airport. While she was milling about, she walked into a sundries shop, where she noted a lone bottle of Purell, sitting in the display case. She started walking toward it, when someone shouted at her: "No!" Coming up fast behind her was a mother, young child in tow, who was homing in on the bottle of Purell like a heat-seeking missile. She ran past my niece, grabbed the bottle, put a squirt of that clear elixir in the hands of her toddler and then made her way to the cashier to pay for her prize.
Designer N95s
Whoever that mother was, she has my sympathies. Especially in times of crisis, the need to protect our loved ones intensifies to the point of madness.
For most of us, however, this need to protect extends well beyond our bloodlines.
Take Christian Siriano, for example. Mr. Siriano is a New York-based fashion designer whose couture label is worth over $5 million. And now he is sewing N95 face masks. He heard New York Gov. Andrew Cuomo declare the state was experiencing a desperate shortage of personal protective equipment. Mr. Siriano immediately reached out and volunteered his services and those of his staff. The Christian Siriano label has made more than 7,000 hand-sewn, fully certified N95 face masks, some of which are in use at New York Presbyterian Columbia University Irving Medical Center. And they are machine washable.2
The rest of the fashion industry followed his lead. The Kering Group, parent company of Balenciaga, Gucci and Saint Laurent (also known as Yves Saint Laurent), announced it would retool its businesses to produce respirators for the French health service.3
Not to be outdone, Louis Vuitton is making hand sanitizer, which it pledged to continue to supply to hospitals throughout France for free for as long as they need it.4
Instead of starting his subinternship in surgery, Rob was spending his Saturday morning helping healthcare workers register for fit testing for N95 respirators.
The fashion industry is not alone. Long before the Defense Production Act was invoked, the automakers Tesla, General Motors and Fiat Chrysler Automobiles pledged to redirect their factories toward the manufacture of ventilators.5 They are being assisted by Medtronic and Ventec Life Systems, which have managed to forgo the usual concerns over industry secrets and patent protection, because the need is so great.
All of this is a good reminder: Hope often comes from where you least expect it.
Desperate Times & Pitching In
Desperate times call for desperate clichés. Ironically, we often communicate our most heartfelt emotions through tired catch­phrases. Be strong! Stay safe! I think it's because finding our own words, some­times, can cost us too much. This is most true when time is short and we are giving so much already. We use these phrases,
not for their semantic content, but for the emotions they carry. They are a boo­kmark, a promise, an I.O.U. for a deeper con­versation we will have when the emergency has passed.
These are, indeed, desperate times. But desperate times have a funny way of bringing out the best in all of us. For every 20-something insisting on his right to party during spring break with 200 of his closest friends, another is waiting patiently outside a supermarket that opens an hour early for their elderly customers to ease their concerns over asymptomatic transmission of SARS-CoV-2. There are also reports from across the country of college students offering to run errands for their elderly neighbors who are too afraid to venture out themselves.
Medical students are finding other ways to contribute. I ran into Rob Young, a medical student who rotated on my service when I attended on an internal medicine service last year. As you may know, the Association of American Medical Colleges recommended suspending all rotations for medical students that involve direct patient contact.6 Instead of starting his subinternship in surgery, Rob was spending his Saturday morning helping healthcare workers register for fit testing for N95 respirators.
Other Johns Hopkins medical students are spending their third year of medical school reporting to a warehouse, where they are assigned a stapler and a hot glue gun, and spend the day assembling face shields for distribution to physicians on the front lines. Additionally, medical students at Hopkins and across the country have organized to provide free child care for physicians whose usual child care arrangements have been upended by COVID-19.
Some students are helping out on an even larger scale. Pooja Chandra, a first-year medical student at Harvard Medical School, Boston, realized almost no information on COVID-19 in languages other than English was available. She noted, "this makes it really difficult for patients with lower health literacy to know when and how to seek care, especially patients from immigrant backgrounds or non-English speaking communities."7
Pooja went on to found the COVID-19 Health Literacy Project, comprising more than 175 medical students from 30 institutions. With the assistance of faculty reviewers, this group created and translated patient fact sheets on COVID-19 into 35 languages.8
Other students are using their strengths and talents to help in less expected ways. For example, Shelbee Rassler scored an arrangement of Burt Bacharach and Hal David's What the World Needs Now Is Love. To play it, Ms. Rassler created a virtual orchestra of 75 classmates and friends. She says she orchestrated this performance to send out a message of hope during these desperate times.9
Similarly, the Rotterdam Philharmonic Orchestra, through the miracle of teleconferencing, managed to perform part of the fourth movement of Beethoven's Ninth Symphony, which is sometimes referred to as "Ode to Joy." The 19 musicians, all performing from home with AirPods or earbuds in their ears to keep the beat, came together because they wanted to do something for the rest of us. As an introduction to their recording, the musicians wrote:
We're adjusting to a new reality, and we'll have to find solutions in order to support each other. Creative forces help us. Let's think outside the box and use innovation to keep our connection and make it work, together. Because if we do it together, we'll succeed.10
This is a great message for all of us. Most healthcare workers are accustomed to working in teams. When I see a patient in my clinic, I am one of three or four people that patient might see, from the security guard at the front desk when the patient arrives to the patient services coordinator who ensures the patient gets the tests and appointments they need. Now, we are all learning how to work together while we are physically apart. But we are still a team.
Why We Do It
All of these groups remind us that healthcare workers do not have a monopoly on commitment to service. Like you, I have been inundated by messages from panicked patients requesting information on how COVID-19 might affect their health. Because virtually all of my patients are immunosuppressed, their panic is completely understandable, especially given the almost uninterpretable surfeit of information that is publicly available. I tell all of my patients the same thing: You probably are at increased risk, but we haven't seen a flood of patients with rheumatic disease hospitalized with COVID-19. Many of my patients heard this and asked me to provide them with a letter to excuse them from work. One of my patients, a lieutenant in the Baltimore Police Department, thanked me for the information and said it made him feel more comfortable with the prospect of being redeployed to the streets.
When we think of service, we should think not only of first responders, but also of the clerks who restock the grocery shelves almost as fast as they are emptied, and the men and women who continue to bring the packages I order online to my home, day after day. In states under complete lockdown, where residents are instructed to leave their homes only for essential services, we are left with a much clearer understanding of who really keeps our nation running. I just hope we remember this lesson when the smoke clears.
I also hope we use this as a reminder of why we became healthcare providers to begin with. Many of us are being asked to return to the wards, often decades after we left internal medicine behind. Some of us have been asked to care for routine patients and free better trained (or at least, more recently trained) physicians to care for more complex patients; others will provide direct patient care for patients infected by COVID-19. This prospect is, frankly, frightening. But I know that this is the sort of work we were born to do.
Tatiana Prowell, MD, an oncologist at the Sidney Kimmel Cancer Center at Johns Hopkins, put it this way: "Doctors, remember when we all got accepted to med school because we were creative problem-solvers determined to bend the arc of human disease (and not just close EHR encounters)? This is our moment. It's go time."11
One final reminder: Allison Swendsen, a nurse in the emergency department of Morristown Medical Center, New Jersey, heard a knock at the window. When she looked up, she saw a man holding a sign over his head with his left hand, his right hand over his heart and tears streaming down his face. The sign read: "Thank you all in emergency for saving my wife's life. I love you all." His wife was being discharged from the hospital, after having been admitted for management of COVID-19, and he wanted everyone to know how grateful he was for the care she had received.
The nurse posted the photograph on Instagram, with a caption that read: "I don't know him. I don't know his wife, but throughout the last 13 years as a nurse, I realized, this is why we do it—times are tough, but we make a difference."12
Stay safe. Be strong.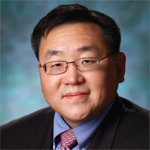 Philip Seo, MD, MHS, is an associate professor of medicine at the Johns Hopkins University School of Medicine, Baltimore. He is director of both the Johns Hopkins Vasculitis Center and the Johns Hopkins Rheumatology Fellowship Program.
References
Waldrop T, Gallman S. A group of young adults held a coronavirus party in Kentucky to defy orders to socially distance. Now one of them has coronavirus. CNN.com. 2020 Mar 25.
Coleman J. Designer Christian Siriano's team creates almost 1K masks. The Hill. 2020 Mar 25.
Hicks K. Christian Siriano among designers making masks for healthcare workers during pandemic. TheDenverChannel.com. 2020 Mar 26.
Coronavirus: Louis Vuitton owner to start making hand sanitiser. BBC. 2020 Mar 16.
Korosec K. Tesla CEO Elon Musk: New York gigafactory will reopen for ventilator production. Tech Crunch. 2020 Mar 25.
Guidance on medical students' participation in direct patient contact activities. Association of American Medical Colleges. 2020 Apr 14.
Caldera CG. Harvard Medical School affiliates translate COVID-19 information into more than 30 languages. The Harvard Crimson. 2020 Mar 27.
Chandrashekar P. COVID-19 health literacy project. 2020.
Rassler S. What the world needs now—for virtual orchestra. YouTube. 2020 Mar 22.
Rotterdams Philharmonisch Orkest. YouTube. 2020 Mar 20.
Prowell T. Twitter. 2020 Mar 15.
Coronavirus USA: Man tearfully thanks NJ hospital staff for saving wife's life. ABC Action News. 2020 Mar 27.