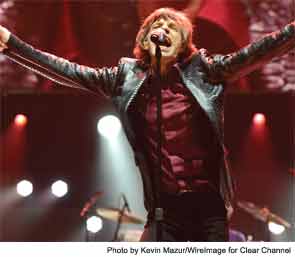 Mick Jagger of The Rolling Stones performing at the '12-12-12′ concert at Madison Square Garden in New York City. The concert raised money for The Robin Hood Relief Fund to aid the victims of Hurricane Sandy.
At the recent 12-12-12 benefit concert for Sandy, I was pretty amazed watching Mick Jagger leap and strut across the stage at Madison Square Garden, bringing the audience to their feet. Shirtless and wearing his signature skintight jeans, Mick's energy, and that of his bandmates, seemed boundless. Not bad for a bunch of guys (Jagger, 69; Keith Richards, 69; Charlie Watts, 71; and Ron Wood, 65) who, as Americans, would be eligible to receive Medicare benefits and monthly Social Security checks. Though Jagger's crinkled visage displays a weathered magnificence worthy of his age, his legs don't seem to have suffered from the ravages of aging. How does he do it? Apparently, Jagger has been a fitness buff his entire life. His father, Joe, who died at age 93, was a physical education teacher who instilled a fierce work ethic in his son. According to an article published last year in The Daily Mail, Sir Mick runs eight miles a day, swims, kickboxes, and cycles. He also takes ballet lessons and studies yoga and pilates. This regimen keeps him in adequate shape to cover the 12 miles of strutting and sashaying of a typical Stones concert.
Watching the Stones, The Who, and Eric Clapton perform on that chilly December night in New York brought to mind an anecdote about aging from an earlier time in my career. I needed to create some teaching slides on the topic of polymyalgia rheumatica (PMR). I assembled the list of key diagnostic criteria including the sine qua non of PMR: patients must be at least 50 years of age. To add a personal touch, I inserted the header: "PMR: A Disease of the Elderly." Well, I thought, isn't 50 a pretty old age? After all, it's the birthday signifying one's eligibility to join that most famous of geriatric organizations, the AARP. Needless to say, that slide got trashed by the time I turned forty!