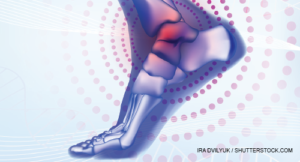 ACR CONVERGENCE 2021—Patients with inflammatory arthritis affecting the foot and ankle will likely need surgical treatment by an orthopedic foot and ankle surgeon, but in the era of biologics, surgical intervention may not be needed as often as it once was.
"The good news for patients with rheumatoid arthritis is that there has been a decline in the need for intermediate surgery, including foot surgery," said Kathryn Williams, MD, an orthopedic surgeon specializing in foot and ankle surgery at the University of Wisconsin School of Medicine. The decline, she said, coincides with the introduction of biologic agents in 2002.
Despite this decline, she emphasized that surgery remains key to alleviating pain from arthritis-associated foot and ankle symptoms.
In a session titled What Orthopedists Want Rheumatologists to Know: Surgical TX for Foot & Ankle Arthritis, Dr. Williams described the types of surgeries routinely used to alleviate pain symptoms due to inflammatory arthritis affecting the foot and ankle joints by using case studies to highlight the different surgical options based on the joint involved—ankle, hindfoot or forefoot.
She opened her presentation by underscoring that nearly 90% of people with rheumatoid arthritis will have foot and ankle symptoms, with most presenting to her clinic with pain that is typically more symptomatic in the forefoot and ankle, and fewer symptoms in the hindfoot or midfoot. Rarer, around 20%, are patients who present to her clinic with initial symptoms of rheumatoid arthritis, whom she refers to a rheumatologist.
Ankle Surgical Options
For patients with rheumatoid arthritis primarily affecting the ankle, both arthrodesis (fusion) or total ankle replacement are viable options. Dr. Williams said fusion provides good pain relief and that about 50% of her patients opt for arthrodesis.
In discussing the role of total ankle replacement, Dr. Williams cited recent data supporting its use for patients with rheumatoid arthritis despite concerns that these patients may be at higher risk for postoperative complications because of their disease and treatments for it. Data from the National Inpatient Sample database show that total ankle replacement was associated with a decreased risk of myocardial infarction, pulmonary embolism, surgical site infection and urinary tract infection in patients with rheumatoid arthritis, but a higher rate of pneumonia.1 Given this evidence and the benefits of total ankle replacement to allow for a more natural gait pattern than fusion, she said that total ankle replacement is a viable option. However, patients need to understand that this surgery carries a higher re-operation rate than fusion.