In 1998, the ACR Research and Education Foundation (REF) funded a total of $500,000 in grants. This year, the REF funded more than $4.6 million in grants through its core portfolio, which is an increase of over $4 million in funding capabilities in just 10 years. The REF also achieved the distinction of becoming the second largest funding source—just behind the National Institutes of Health (NIH)—of rheumatology research and training programs in the United States and was recently awarded the prestigious four-star rating from Charity Navigator. These achievements could not have been realized without the generous financial support of REF donors.
The Within Our Reach: Finding a Cure for Rheumatoid Arthritis campaign has also come a long way in a short time. After 43 months of conducting this campaign, the REF has raised more than $26 million toward the $30 million goal to accelerate rheumatoid arthritis (RA) research through a new peer-reviewed grant program comparable to NIH major grant funding.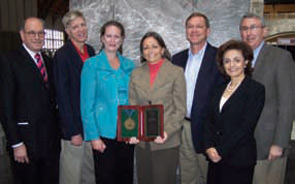 REF Past-President, Leslie J. Crofford, MD, (blue jacket) presents a plaque to the Arthritis Foundation, Inc. for its recent commitment of $1 million to the Within Our Reach campaign.
The Within Our Reach campaign started its journey with one $5 million Pinnacle donor—the ACR—and an outline of the grants program. To date, there have been four Pinnacle donors and, most recently, the Arthritis Foundation committed $1 million to the campaign. Furthermore, 45 grants have been awarded, totaling $18 million, to some of the top researchers in the nation. Volunteers nationwide, consisting primarily of practicing rheumatologists, are helping to steer the campaign. These key volunteers, who serve on the Within Our Reach Campaign Cabinet and on the Leadership Council as ambassadors and diplomats, have enabled the campaign to realize a primary goal of growing support from research-minded individuals—including patients and their families. To date, that support totals more than $2 million.
By maintaining the level of funding for disease-targeted research initiatives like Within Our Reach, the REF addresses the deficiencies in rheumatology research funding and fosters the subspecialty's ability to attract established investigators to continue academic and clinical-based research critical to future breakthroughs in rheumatic disease.
The REF continues to increase funding for research and training through its core awards and grants programs. Together, the REF and its donors are investing in the future of rheumatology. If you are interested in joining the Within Our Reach Leadership Council, contact Paula Reed at (404) 633-3777.