Building on the success of last year's attendance-breaking ACR/ARHP Annual Scientific Meeting, the ACR and ARHP planning committees are offering an annual meeting program that that will exceed expectations. Plan to join your colleagues in Atlanta November 6–11 to benefit from both high-quality rheumatology education and a unique blend of cosmopolitan experiences and cultural charm—all of which will quench an array of intellectual, cultural, and culinary appetites.
What's in the Program?
This year's meeting will have many returning favorites, such as Thieves' Market, Year in Review, Curbside Consult—Ask the Professors, The Great Debate, the newly expanded Noontime Clinical Review, ARHP Rheumatic Disease Updates, and Immunology Update for Clinicians. In an effort to better meet the needs of attendees, this year the ACR Annual Meeting Planning Committee added an array of lectures and an intimate learning environment with the Meet the Professor and Workshop sessions that will provide valuable take-home points to all. Here are some highlights from this year's offerings:
Preconference courses: A Musculoskeletal Ultrasound precourse has been added to this year's program. Attendees will be able to perform hands-on scanning of live models to enhance their technical proficiency in diagnosing normal and abnormal clinical conditions.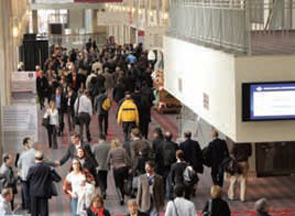 2009 ACR/ARHP Annual Scientific Meeting in Philadelphia.
In an effort to encourage participation from young investigators (those with less than six years of experience), they will be invited to submit abstracts to the Basic Research and Clinical Research Conferences. The accepted abstracts will be presented on Saturday, November 6 and/or Sunday, November 7, and these abstracts will also be eligible for presentation during the main meeting.
Finally, the ARHP clinical focus course will help practicing rheumatology health professionals integrate immunology and biologics into clinical practice (see page 10 for more details on this pre-conference course).
Better-defined tracks: Meeting attendees will find it easier than ever to organize their annual meeting schedule before leaving home. Educational tracks will be offered again this year, and will be organized by day, color coded, and included in the online itinerary builder. Tracks on translational content for those interested in how the latest advances in basic research are being applied to clinical rheumatology, clinical sessions of interest to private practitioners as well as to academicians, and the previous tracks for pediatrics, pain, and rheumatologic education will all be included. Anyone in private practice will be especially interested in the new Business of Rheumatology track, which will focus on the day-to-day aspects of the business of rheumatology.