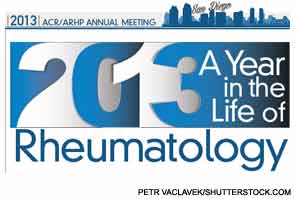 ADVERTISEMENT
SCROLL TO CONTINUE
SAN DIEGO—Although the past year failed to deliver any new drugs for rheumatic diseases, several new indications for existing drugs have emerged over the past year that are particularly exciting for pediatric diseases. In addition, the year has shown that achieving major results in clinical trials requires the effort of large collaborative networks. On the basic-science front, new information continues to emerge on specific disease mechanisms and pathophysiology of various rheumatologic diseases that hold promise for a future of personalized medicine and truly targeting treatment for each patient. These were some of the key points discussed during a "Year in Review" session here at the 2013 ACR/ARHP Annual Meeting, held October 26–30. [Editor's Note: This session was recorded and is available via ACR SessionSelect at www.rheumatology.org.]
Clinical Perspective: Keeping an Open Mind
Bringing participants up to date on the latest clinical news, David Wofsy, MD, professor of medicine and microbiology and immunology at the University of California, San Francisco, emphasized the need for rheumatologists to keep an open mind. "Several of the key studies this year challenged conventional wisdom," he said. "They may not change preconceived notions or eliminate skepticism by themselves, but they remind us to keep an open mind."
ADVERTISEMENT
SCROLL TO CONTINUE
Among these is a study by Katz and colleagues that looked at surgery versus physical therapy for meniscal tear and osteoarthritis.1 The study included 351 patients older than 45 years with symptomatic mild to moderate osteoarthritis with a meniscal tear, randomized to arthroscopic partial meniscectomy plus physical therapy or physical therapy alone with an opportunity to switch to surgery if physical therapy was not satisfactory. Based on the difference in standard physical function after six months, the study found comparable improvement based on the Western Ontario and McMaster Universities Osteoarthritis Index (WOMAC) score between the two groups. According to Dr. Wofsy, 70% of patients did not require surgery and did exactly as well as the patients initially randomized to surgical therapy. "This suggests that roughly 70% of patients can do without surgery," he said.
He did note that, in the study, 30% of the patients in the physical therapy group eventually underwent surgery by six months due to persistent symptoms. "The outcome in these patients at 12 months," he said, "was also comparable to those who underwent surgery initially."
Despite some limitations of the trial that may include selection bias, he thinks the trial results are valid and that physical therapy should be considered an option for these patients.