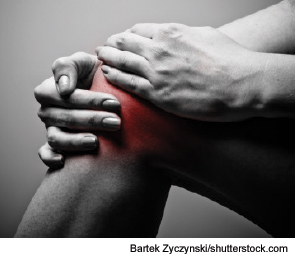 BOSTON—Bone disorders, whether in the tissue or molecular pathways, are actively involved in the development of osteoarthritis (OA) pain and progression.
You Might Also Like
Explore This Issue
February 2015
Also By This Author
"We know that bone is a live organ. It is not static. It always responds to mechanical loading," said Xu Cao, PhD, director of the Center for Musculoskeletal Research at Johns Hopkins School of Medicine in Baltimore, Md. Dr. Cao and two other researchers spoke about The Role of Bone in the Pathogenesis of Osteoarthritis at the ACR/ARHP Annual Meeting in Boston on Nov. 17, 2014.
ADVERTISEMENT
SCROLL TO CONTINUE
Researchers want to know more about the various players in bone and cartilage destruction in OA, the panelists said.
Lesions & Pain
Pain is common in OA but not well understood by rheumatologists, but identifying the role of bone marrow lesions in OA pain may drive more effective management of this problem, said David T. Felson, MD, MPH, professor of medicine and public health at Boston University and the University of Manchester in the U.K.
ADVERTISEMENT
SCROLL TO CONTINUE
Bone marrow lesions are one likely culprit for fluctuating and worsening OA pain, especially in patients with knee malalignment, Dr. Felson said. "These lesions are more strongly related with dynamic than static malalignment," he said.
Histologically, bone marrow lesions reflect bone that has undergone trauma, with microfractures and evidence of injury and repair. Bone marrow lesions are a major risk factor for knee OA progression. They can be caused by other structural lesions that increase focal load on the bone, including knee malalignment, meniscal tears, and/or cartilage loss in the knee joint, Dr. Felson said.
Bone marrow lesions may fluctuate in a short timeframe in knees with OA, even over six weeks. Bone marrow, subchondral bone and, especially, the periosteum are the "structures in the bone that are the most innervated with pain fibers," Dr. Felson said. This rich supply of nerves sets the stage, and bone marrow lesions clearly play a starring role in knee OA pain, he added. "Knee pain severity decreases with bone marrow shrinkage or resolution. It clearly is a causal agent of OA pain."
ADVERTISEMENT
SCROLL TO CONTINUE
Patellar braces may help ease pain and improve patellofemoral bone marrow lesions in OA patients, even in just six weeks, Dr. Felson said. "Bone marrow lesions are a good structural target for treatment."
'Knee pain severity decreases with bone marrow shrinkage or resolution. It clearly is a causal agent of OA pain.'
—David T. Felson, MD, MPH
Signaling Mutations
Wnt signaling pathways, which regulate cell development and play a role in the development of many organs and tissues, may offer more clues in who is at high risk for OA, said Rik Lories, MD, PhD, at KU Leuven in Belgium.
"Wnt is an appealing but mysterious cascade," said Dr. Lories. He described a fly with Wnt signaling pathway mutation that was wingless and could not fly. "This truly is a substance that can create major events."
Because Wnt is extremely unlikely to travel across more than one or two cells, Wnt-related proteins have very local effects on bone and cartilage, said Dr. Lories. His research on FRZB, a protein that plays a role in skeletal morphogenesis, sparked his interest in the Wnt pathway and its potential role in bone and joint diseases. FRZB may bind and inhibit Wnt. FRZB gene polymorphisms are associated with OA in humans, especially hip OA.
FRZB-knockout mice generated in his laboratory had more cartilage damage and loss of cortical bone density compared to healthy, wild-type mice, Dr. Lories said. Mice without another Wnt-binding protein, SFRP1, showed an increase of cortical bone. These findings point to the potential importance of this signaling pathway in OA pathogenesis, he said. Overexpression of FRZB and SFRP1 may overload the body's system and have a direct effect on bone formation.
Overactivation of beta-catenin, another molecule in the Wnt signaling cascade, is associated with OA as well, Dr. Lories said. "The surprising thing is that beta-catenin can be put into the center of cartilage. If you inhibit beta-catenin in articular chondrocytes, you also can get OA," he said.
The Wnt signaling cascade may provide many clues to OA pathogenesis, but "this is not an easy therapeutic target," Dr. Lories said.
Cells & Loading
Bone is constantly remodeled in the joints, coupled with bone resorption by osteoclasts and formation by osteoblasts, said Dr. Cao, a bone biologist studying the effects of bone marrow mesenchymal stem cells in OA progression.
"However, at the end of each cycle, bone remodeling will not change the architecture of bone," said Dr. Cao. Calcium in the bone helps maintain constancy, he said.
Bone loading is an important factor in this cyclical process, illustrated by different animal families. Fish, for example, have no osteoclasts, no bone loading, and no bone remodeling. When amphibians first emerged from the sea onto dry land to walk, they developed osteoclasts. Dolphins, who may have returned to the sea from land, have no mechanical loading, but are intended to have solid bone like other mammals, so they show some bone remodeling and osteoclasts, he said.
Transforming growth factor beta 1 (TGFβ1), a peptide involved in many aspects of cell function, could play a role in bone remodeling and OA, Dr. Cao said. In TGFβ1-knockout mice, bone remodeling and bone formation are decreased, and the proteins cannot migrate mesenchymal stem cells (MSCs) to the bone site. In wild-type mice with TGFβ1, stem cell migration to bone surfaces is normal, he said.
If a large amount of TGFβ1 is released by subchondral bone, which can occur during mechanical loading, it may result in bone resorption and knee OA, Dr. Cao said. Abnormal mechanical stress on a joint triggers the bone to respond and release TGFβ1, which recruits stem cells that in turn may lead to aberrant bone formation and, possibly, angiogenesis.
High levels of active TGFβ1 induce an increase in MSCs and initiate abnormal bone formation and angiogenesis at the onset of OA, Dr. Cao said.
OA therapy research targets molecules that inhibit TGFβ1, including halofuginone, used as an antimalarial treatment in Chinese medicine. Halofuginone inhibits angiogenesis and the development of T-helper 17 cells that play an important role in autoimmunity, Dr. Cao said. It can also prevent articular cartilage degeneration in joints with anterior cruciate ligament tears, and help attenuate OA progression.
---
Susan Bernstein is a freelance medical journalist based in Atlanta.