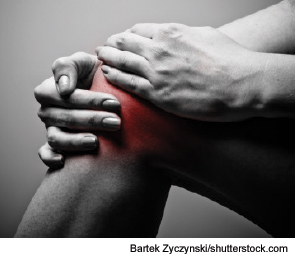 BOSTON—Bone disorders, whether in the tissue or molecular pathways, are actively involved in the development of osteoarthritis (OA) pain and progression.
"We know that bone is a live organ. It is not static. It always responds to mechanical loading," said Xu Cao, PhD, director of the Center for Musculoskeletal Research at Johns Hopkins School of Medicine in Baltimore, Md. Dr. Cao and two other researchers spoke about The Role of Bone in the Pathogenesis of Osteoarthritis at the ACR/ARHP Annual Meeting in Boston on Nov. 17, 2014.
Researchers want to know more about the various players in bone and cartilage destruction in OA, the panelists said.
Lesions & Pain
Pain is common in OA but not well understood by rheumatologists, but identifying the role of bone marrow lesions in OA pain may drive more effective management of this problem, said David T. Felson, MD, MPH, professor of medicine and public health at Boston University and the University of Manchester in the U.K.
Bone marrow lesions are one likely culprit for fluctuating and worsening OA pain, especially in patients with knee malalignment, Dr. Felson said. "These lesions are more strongly related with dynamic than static malalignment," he said.
Histologically, bone marrow lesions reflect bone that has undergone trauma, with microfractures and evidence of injury and repair. Bone marrow lesions are a major risk factor for knee OA progression. They can be caused by other structural lesions that increase focal load on the bone, including knee malalignment, meniscal tears, and/or cartilage loss in the knee joint, Dr. Felson said.
Bone marrow lesions may fluctuate in a short timeframe in knees with OA, even over six weeks. Bone marrow, subchondral bone and, especially, the periosteum are the "structures in the bone that are the most innervated with pain fibers," Dr. Felson said. This rich supply of nerves sets the stage, and bone marrow lesions clearly play a starring role in knee OA pain, he added. "Knee pain severity decreases with bone marrow shrinkage or resolution. It clearly is a causal agent of OA pain."
Patellar braces may help ease pain and improve patellofemoral bone marrow lesions in OA patients, even in just six weeks, Dr. Felson said. "Bone marrow lesions are a good structural target for treatment."
'Knee pain severity decreases with bone marrow shrinkage or resolution. It clearly is a causal agent of OA pain.'