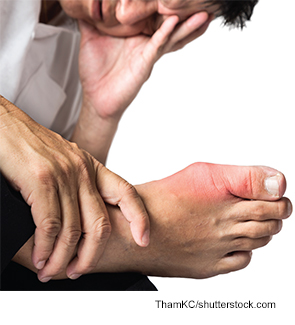 BOSTON—Cost differences between first-line gout therapies may contribute to suboptimal management of the disease for many patients, a panel of rheumatologists said.

Dr. Saag
In Gout Management Guidelines, a discussion session at the ACR/ARHP Annual Meeting in Boston on Nov. 17, 2014, gout experts offered their opinions on new guidelines in development by ACR and other medical associations around the world. Barriers to creating useful guidelines for more successful gout management include lack of evidence to support some treatment recommendations and widespread belief by providers that following the guidelines may not lead to better patient outcomes. Rheumatologists and others should set more aggressive targets for their gout patients, and should no longer perceive gout as a condition requiring treatment only during flares, the panelists said.
Limitations, gray areas and gaps in evidence plague many disease-management guidelines. The most recent ACR gout management guidelines, published in 2012, are no exception, said Kenneth S. Saag, MD, MSc, director of the Center for Education and Research on Therapeutics of Musculoskeletal Disorders at the University of Alabama, Birmingham.
"Few things provoke the ire of our colleagues more than guidelines," he said. "Guidelines should be advisory, not proscriptive."
Cost an Issue
Recommendations often do not reflect the complexity of gout patient care, so frequent guideline updates are necessary, he said. Recommendations also may be too nuanced or contain arbitrary differences between statements, and recommendations may be misused by lawyers or insurance companies to support lower-cost therapies that may not be as effective for some patients, Dr. Saag said. "Cost is a really vexing issue when you are making guidelines."
The 2012 gout management guidelines sparked several controversies among rheumatologists, said John D. FitzGerald, MD, PhD, assistant clinical professor of medicine at the University of California, Los Angeles, and one of the project's principal investigators. The guidelines' authors used the RAND consensus method to review as many as 5,380 scientific journal titles, but in gout, some of the most vexing clinical questions may have little data to measure or analyze them, said Dr. FitzGerald.
In the existing guidelines, febuxostat and allopurinol are both seen as first-line urate-lowering therapies, although they differ markedly in price. Low-dose corticosteroids are recommended for prophylaxis if a patient cannot tolerate nonsteroidal antiinflammatory drugs (NSAIDs). Some recommendations, including dietary management and continuation of urate-lowering therapy even in the case of a flare, only had C-grade evidence to support them, Dr. FitzGerald said.