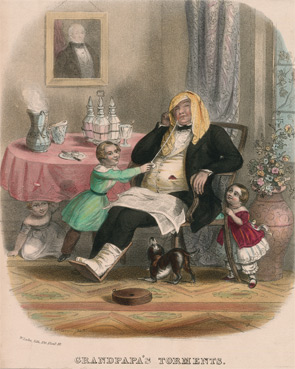 "Grandpapa's Torments" was the Rodnan Commemorative Gout Print featured at the 2005 ACR/ARHP Annual Scientific Meeting.
Gout is arguably the best understood rheumatic disease. The diagnosis of gout is typically straightforward, and effective serum urate–lowering drugs and anti-inflammatory compounds are available to manage the majority of patients with gout.There has been a sense of complacency about gout—until recently. The last two decades have seen a remarkable resurgence of gout in the United States. This comeback has clinicians facing increasingly complex cases in which age, comorbidities, and concomitant medications impose difficult management decisions.
Further, physicians are increasingly limited by the lack of new Food and Drug Administration (FDA)–approved therapeutic options for gouty inflammation and hyperuricemia management for patients who present with the key elements of difficult gout. (See Table 1)
Table 1: Key Features of Difficult Gout
Destructive tophi;
Polyarticular gout or frequent flares of monarticular or oligoarticular gout;
Allopurinol hypersensitivity or intolerance;
Renal insufficiency with creatinine clearance more than 60;
History of urolithiasis or documented uric acid overproduction;
Cardiovascular, diabetic, hepatic, or upper gastrointestinal tract comorbidities;
Intolerance or refractory state to NSAIDs, colchicine, ACTH, and/or glucocorticosteroids;
Major organ transplantation or cyclosporine use;
Polypharmacy and drug interactions (e.g., statins, macrolide antibiotics, or anticoagulants);
Age 70 or older; and
Failure to satisfactorily lower serum urate.
Increased Prevalence and Clinical Complexity
Over the last two decades in the United States, the prevalence of gout has approximately doubled. A perfect storm of factors has drived increases in gout prevalence and clinical complexity. The graying of the population as a whole is a central factor because the greatest rise in gout prevalence by far has been among the aged. This situation is clinically problematic because polypharmacy, significant comorbidities, and altered drug disposition and toxicity profiles are common problems in the elderly. The wide use of diuretics in association with underlying chronic renal insufficiency and/or congestive heart failure has rendered difficult gout partly an iatrogenic problem in many patients. The clinical character of tophaceous gout is changing, such that the elderly female with chronic polyarticular gout presents a common problem in the clinic and for consultative practice of inpatient rheumatology. (See Figure 1)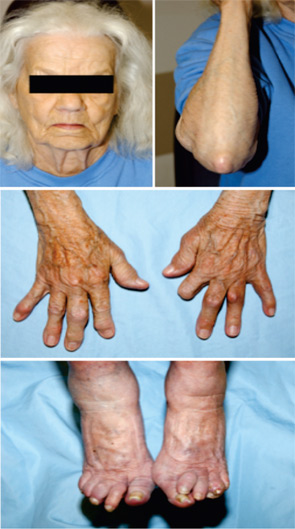 click for large version
figure 1: The changing face of gout. This 84-year-old female presented with draining toe tophi (see left foot) and polyarticular, chronically painful, progressive chronic tophaceous gouty arthritis of five years. Comorbidities included congestive heart failure on 120 mg furosemide daily and renal insufficiency with a creatinine clearance of 25 mL/min.
Factors confluent with aging that are changing the prevalence and character of gout include the marked increased prevalence of hypertension (with associated thiazide diuretic use); altered dietary trends; and the rising prevalence of obesity, metabolic syndrome, and end-stage renal disease over the last few decades.1 Improved survival in coronary artery disease, congestive heart failure, and diabetes mellitus, and broad use of loop diuretics (and possibly low-dose acetylsalicylic acid as well) also appear to contribute to the expanded pool of subjects with chronic, severe hyperuricemia. Finally, the limitations of allopurinol therapy render gout management difficult in a sizeable fraction of patients, particularly those with significant renal insufficiency or uric acid overproduction where uricosuric therapy is not a viable alternative to allopurinol. (See Table 2)