You Might Also Like
Explore This Issue
January 2015
Also By This Author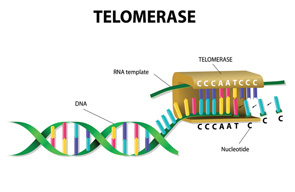 BOSTON—Although the clinical significance of telomere shortening in the context of chronic inflammation or advanced age is still not fully understood, it is an area of active investigation that is uncovering an important link to the immune response and to inflammatory conditions.
ADVERTISEMENT
SCROLL TO CONTINUE
"The length of telomeres determines the length of the life of the cell," said Leonard Sigal, MD, clinical professor, Departments of Medicine and Pediatrics and adjunct professor, Department of Molecular Genetics and Microbiology, RUTGERS Robert Wood Johnson Medical School, New Brunswick, N.J. "Immune senescence, immune function, autoimmunity all may be influenced by the maintenance of telomeres, and we now know that inflammation itself causes telomeres to shorten."
ADVERTISEMENT
SCROLL TO CONTINUE

Dr. Sigal
Dr. Sigal moderated a session on Telomeres, Telomerase and the Aging Immune System at the 2014 ACR/ARHP Annual Meeting on Nov. 17, during which Jonathan Alder, PhD, assistant professor of physiology & developmental biology, Brigham Young University, Provo, Utah, presented data on the emerging links between telomeres and immunity.
Biology of Telomeres & Link to Immune Response
After a brief overview of the biology of telomeres and telomerase (which maintains telomeres; see figure above), Dr. Alder discussed lessons learned from families with mutant telomere genes and what is known about the consequences of telomere dysfunction and aging.
"Telomeres are perhaps the best-characterized biologic clock. They get shorter as we age and serve to cap chromosome ends and suppress the DNA damage response," said Dr. Alder. "When telomeres get too short, they trigger cell death or cellular senescence (permanent cell cycle arrest)."
ADVERTISEMENT
SCROLL TO CONTINUE
They are the genetic material underlying the "Hayflick phenomenon," whereby human cells are capable of only a finite maximum number of divisions, added Dr. Sigal.
As such, telomerase, the enzyme that maintains telomeres, is normally under tight control to limit cell proliferation, according to Dr. Alder. "Too much telomerase and cells can become transformed (cancer), too little and cells cannot proliferate."
Telomere shortening occurs regularly as people age, but telomeres can shorten early in families with telomerase mutations causing genetic syndromes, such as dyskeratosis congenital, which causes cells to age and die too soon. The consequence for patients with these mutant telomere genes is premature death, often from bone marrow failure and most commonly from pulmonary fibrosis. These people are also at increased risk of malignancy.
"It is clear that patients with very short telomeres due to mutations in the genes that maintain telomeres are at significant risk for life-threatening conditions, including bone marrow failure and pulmonary fibrosis," said Dr. Alder.