CHICAGO—At the 2018 ACR/ARHP Annual Meeting in October, the ACR and the ARHP honored distinguished individuals who have made significant contributions to rheumatology research, education and patient care. This month, The Rheumatologist speaks with the ACR winners about their individual contributions to advancing rheumatology. You'll also find the 2018 Masters list. In the next issue, we will profile the ARHP Award winners and the Distinguished Fellow Award recipients.
ACR Awards of distinction
Presidential Gold Medal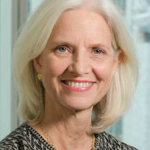 The Presidential Gold Medal recipient is Mary K. (Peggy) Crow, MD, MACR. She is physician in chief, chair of the Department of Medicine, senior scientist and director of the Autoimmunity and Inflammation Program and the Benjamin M. Rosen Chair in Immunology and Inflammation Research for the Hospital for Special Surgery (HSS) in New York. She is also the chief of the Division of Rheumatology and Joseph P. Routh Professor of Rheumatic Diseases in Medicine at Weill Cornell Medical College, New York.
The highest award the ACR can bestow, the Presidential Gold Medal is awarded in recognition of outstanding achievements in rheumatology over an entire career.
| | |

Next →

|
Single Page