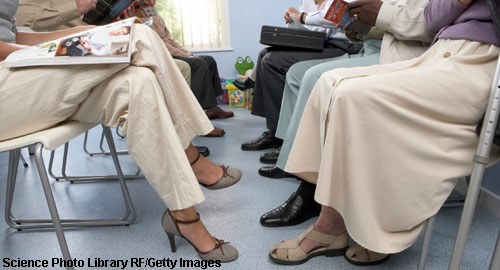 What happens during rooming time can be a black box for physicians, but understanding the information collected and the patient interactions that occur in this timeframe to check in a patient for a clinic visit can be very valuable, according to Christie Bartels, MD, MS, an assistant professor of medicine in the Rheumatology Division at the University of Wisconsin School of Medicine and Public Health in Madison, Wis.
You Might Also Like
Also By This Author
"A closer look at this window we call rooming time can not only yield important care information, but also provide opportunities to streamline and standardize the process so new interventions can be added without creating time constraints," she says.
ADVERTISEMENT
SCROLL TO CONTINUE
Dr. Bartels has been working closely with Edmond Ramly, PhD, an industrial and systems engineer who also works in the University of Wisconsin School of Medicine and Public Health. These two experts first led a project in 2014–2015 to apply a time study tool Dr. Ramly created to evaluate and establish a baseline for the frequency and duration of all visit-related tasks performed by clinic staff (i.e., medical assistants or nurses) between the waiting room and the entry of the rheumatologist.1
Conducted within three different rheumatology clinics in the University of Wisconsin at Madison medical system, the study involved developing a taxonomy of tasks based on policies and procedures, observation to establish additional tasks often completed and then more than 1,400 minutes of observation by trained engineering and medical observers using a paper checklist and a stopwatch, Dr. Ramly explains. They documented 18 additional actions beyond the 25 expected tasks, and observed rooming time varied widely from 2.5 to 22 minutes across visits among the three clinics.
ADVERTISEMENT
SCROLL TO CONTINUE
"Variation is often difficult to quantify in medical practice," Dr. Ramly notes. "This time study gave us a way to establish baseline data to measure and assess differences in frequency of tasks and duration."
Findings from the study were then evaluated by clinic staff and providers, examining the data together to refine rooming in the three rheumatology clinics. Here are three important evidence-based changes made from the time study data that are improving patient rooming and overall scheduling efficiency.
1. Prioritized & Standardized Rooming Task Completion
Dr. Bartels says one key benefit from comparing tasks at the three different clinics was getting a good look at variation, as well as how tasks may be addressed most efficiently in one practice for widespread adoption. Example: The study identified that assessing a patient's pain score during rooming was handled differently between clinics and also within the clinics. In certain cases, this evaluation took additional time. As a result, each clinic now gives disease management worksheets to patients during waiting and rooming. The score is then quickly documented by clinic staff during rooming.
ADVERTISEMENT
SCROLL TO CONTINUE
Study findings also provided a way to look at all tasks and determine which were redundant. Example: The task of measuring a patient's height was deemed redundant for every clinic visit. Height is now measured only periodically.
When the clinic staff evaluated the study data together, they each saw how their colleagues may have approached a rooming task or performed tasks in a different order. From this information, clinical staff members have worked together to learn optimal approaches for completing rooming tasks and these practices have been standardized within the electronic health record (EHR), Dr. Ramly explains.
"This additional standardization support with technology has also helped clinic staff be more consistent with rooming tasks and, thereby, reduced variation in rooming tasks and time," he says, noting that alerts have been built into the EHR to reinforce standardized rooming with each patient.
2. Assessed Timing for New Rooming Tasks
By evaluating the variable time spent on rooming tasks and eliminating or streamlining these tasks to get to an average rooming time of six to eight minutes with less variation, Dr. Bartels and her physician colleagues established a new protocol to remeasure high blood pressures. If a patient's blood pressure is confirmed high, an order is built into the EHR that initiates scheduling with the patient's primary care physician for follow up. This automation helps coordinate population-level preventive care in specialty clinics, a subject her team studies.2
Another new task added to rooming is asking patients who use tobacco if they have considered cutting back or would accept tobacco cessation support. Dr. Bartels says rheumatologists sporadically addressed cessation in fewer than one in 10 visits.3
"By moving this question to a rooming task, clinical staff members who may have struggled in the past with tobacco cessation have spoken with patients from their own experiences," she explains. "We have documented that, when consistently asked, 30% of patients intend to quit, or cut back, in the next 30 days, and we can offer help."
3. Established a Baseline for Ongoing Quality Improvement
With the initial study data collected, Dr. Bartels, Dr. Ramly and colleagues now have a baseline to continue testing and measuring rooming time tasks, efficiency and efficacy. In this process, they have also developed a strong partnership with clinic staff members who now feel more empowered to share ideas for continually refining rooming practices.
"During the study as we observed clinic staff, we made sure to emphasize that we weren't observing for mistakes, but rather looking to tap into their expertise and find ways to optimize the process based on their work," Dr. Ramly acknowledges. "This early engagement proved valuable [when] study data were evaluated and rooming process changes were decided on collaboratively and implemented."
As Dr. Bartels, Dr. Ramly and colleagues continue to refine rooming practices and overall scheduling efficiencies, they have recently released the BP Connect Health Toolkit to help others easily implement the tool in individual practice settings. They are also working with another practice that is applying the time study tool.
Dr. Ramly notes that the tool can elicit different information based on the organization. Therefore, it provides a way to establish an individualized baseline for a practice or a group of practices to understand and improve rooming-time practices.
"Taking the time to engage in systematic analysis of rooming workflows is beneficial for an organization to identify their own opportunities for improving efficiency and patient care," Dr. Ramly adds.
Dr. Bartels says another important benefit of the tool is that it's easy to use and provides strong data to effect important changes in practice that can increase satisfaction among clinic staff, physicians and even patients, who appreciate a more consistent rooming experience for each clinic visit.
"With strong baseline data and highly engaged staff, physicians have the ability to address quality improvement in a systematic way and also build capacity for their practice," she says.
---
Carina Stanton is a freelance science journalist in Denver.
References
Stroik B, Bartels CM, Lauver D, et al. Unwanted variations in rheumatology clinic rooming: A time study tool and analysis [abstract 1030]. Arthritis Rheumatol. 2015;67(suppl 10).
Chodara A, Wattiaux A, Bartels CM. Managing cardiovascular disease risk in rheumatoid arthritis: Clinical updates and three strategic approaches. Curr Rheumatol Rep. 2017 Apr;19(4):16. doi: 10.1007/s11926-017-0643-y.
Vreede A, Voelker K, Wong J, et al. Rheumatologists more likely to perform tobacco cessation counselling in uncontrolled rheumatoid arthritis visits [abstract 2631]. Arthritis Rheumatol. 2015;67(suppl 10).