"This was a long process," admits Dr. Rudwaleit, from the time that he and Dr. Sieper first made their presentation to the group, then conducted a paper patient exercise to elicit expert opinion from international ASAS rheumatologists and finally to the initiations of the 25-center prospective study conducted by ASAS that ultimately resulted in the new classification criteria for axial spondyloarthritis.6,7 "It was really changing the dogma of ankylosing spondylitis, to focus instead on early disease and how to make that diagnosis and achieve consensus about that," he says.
You Might Also Like
Explore This Issue
December 2010
Also By This Author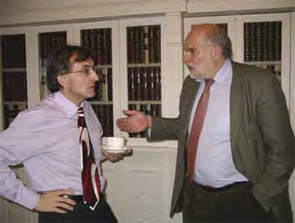 Dr. Walter Maksymowych (left) and Dr. Jürgen Braun, a past member of the ASAS Executive Committee, at an ASAS workshop in Bath, U.K.
Strong Educational Agenda
Education is a necessary complement to the foundational research ASAS engages in, believes Dr. Rudwaleit. "Once we achieve consensus within ASAS—and we have very lively discussions, which are also quite controversial—then we usually publish and communicate our consensus to other colleagues."
ADVERTISEMENT
SCROLL TO CONTINUE
To enhance education, ASAS has developed educational material that is freely available at the ASAS website (www.asas-group.org). This includes the ASAS slide kit and the ASAS handbook, the latter of which contains detailed instructions on all the definitions and how to perform. The ASAS slide kit covers the entire spectrum of pathophysiology, clinical aspects, and outcome up to management. Since 2009, dedicated courses on all aspects of AS have been organized by ASAS for rheumatologists and fellows with a special interest in AS.
Dr. Maksymowych notes that the annual meetings also keep expanding. "We have a very active agenda at our meetings," he adds. "The agenda is always being reinvigorated," and the process of scientific debate continues. He notes that there is ongoing debate about the performance and acceptance of MRI measures of disease activity, a particular research interest of his, and that this is an evolving process.
ADVERTISEMENT
SCROLL TO CONTINUE
ASAS also deliberately draws in researchers and clinicians from the developing countries as well as those from developed countries, states Dr. van der Heijde. Young researchers are encouraged through the offering of associate memberships. Once investigators have published five peer-reviewed publications on the topic, they can apply for full membership. The organization has established this formal requirement, notes Dr. Rudwaleit, "in order to make sure that we attract people who take it seriously."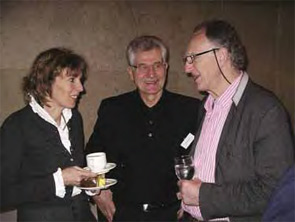 Dr. Désirée van der Heijde, Dr. Henning Zeidler, and Dr. Andrei Calin, an honorary ASAS member, at the 2008 ASAS workshop in Toronto.
Challenges for the Future
The new classification criteria for both axial and peripheral spondyloarthritis constitute one of the most important advances of the last few years, says Robert B. M. Landewé, MD, professor of rheumatology in the department of internal medicine/ rheumatology at Maastricht University Medical Center in Maastricht, The Netherlands. Dr. Landewé's main interests in clinical epidemiology, measurement, and assessment drew him to join ASAS when he finished his rheumatology training in Maastricht. "We now recognize that a patient may not meet the criteria for AS, but will have the same complaints, level of burden of illness, and be approximately similar," he says.