Watch for a Special Supplement
A separate 50th anniversary supplement issue of the journal will be published in February 2008. The supplement will include several sections, including past articles and commentary by each living former editor; an article by David A. Fox, MD, the 2007–2008 ACR president, on the role of A&R within the organization; comments from rheumatologists around the world on how A&R fits into their lives; and an article that looks to the future.
You Might Also Like
Explore This Issue
November 2007
Also By This Author
"I've asked a fellow in training and a freelance writer to contribute articles on what they think publishing is going to be like 50 years from now," says Dr. Lockshin. "From 1958 to 1998, we had a fairly uniform process for this. What we do now is going to change radically in the next 10 years. We're targeted to scientists in rheumatology, but soon we'll be read by anyone who wants to 'blog' us, and I don't know what that will do to change our mission."
ADVERTISEMENT
SCROLL TO CONTINUE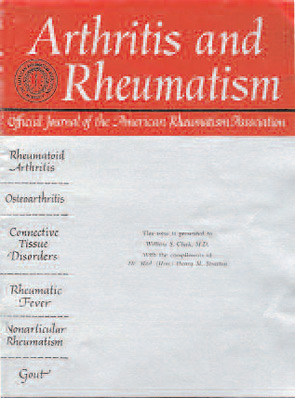 Then
ADVERTISEMENT
SCROLL TO CONTINUE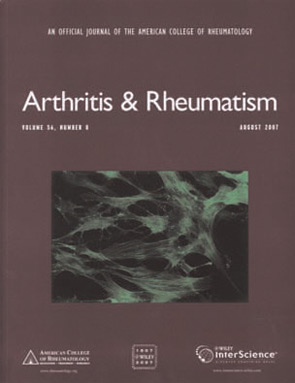 Now
It's a celebration of the past, but much more importantly, it's a look … at the future of our mission and how we serve the community.
– Michael D. Lockshin, MD
As for the reprinted articles, Dr. Lockshin explains, "all of the living editors have chosen what they consider to be a classic article for their time. They've written a companion article to each that discusses the changes in science since the original article was published. The changes are clearly visible when you look back." These commentaries tie in closely with the material presented at the educational session on A&R at the scientific meeting.
Scientific Evolution
Journal readers can trace the often-rapid development of new science through articles published in A&R.
ADVERTISEMENT
SCROLL TO CONTINUE
"Early on, it emphasized more clinical research, and gradually added more science," says Dr. Arend. "The journal was quick to publish new sciences such as molecular biology, and it's become more scientific over the years."
David S. Pisetsky, MD, PhD, professor of medicine and immunology at Duke University Medical Center in Durham, N.C., physician editor of The Rheumatologist, and the most recent A&R past editor, says, "The journal reflects the enormous increase in the sophistication of the science. Rheumatology is a large, vibrant field, and the journal has played an important part in that."
A Look Back
The Rheumatologist asked several past editors to comment on the journal both under their guidance and today.
"As a 'time capsule' for comparison to the year 2008 there are some dramatic contrasts," says Charles L. Christian, MD, a rheumatologist at the University of Florida, Jacksonville, of the journal under his editorship between 1971 and 1975. "There was the growth of rheumatology as a clinical discipline … as well as the volume of scientific work pertinent to the rheumatic diseases and heightened competition for its acceptance for publication in A&R."