The patient had a medical history of pancreatitis and type II diabetes mellitus but was otherwise well until January 2010, when nonspecific complaints, particularly fatigue, led him to visit his primary care doctor. A serum creatinine of 3.5 mg/dL was identified by routine laboratory testing. This new-onset renal insufficiency was accompanied by severe proteinuria (urine protein:creatinine ratio of 9). A renal biopsy revealed interstitial nephritis (see Figure 1). It was observed simultaneously that the patient had symptoms of xerostomia, and physical examination then confirmed both parotid and submandibular gland enlargement (see Figure 2). The presumptive diagnosis of Sjögren`s syndrome (SS) complicated by interstitial nephritis was rendered. Following a short course of prednisone, the patient's renal function returned to normal.
ADVERTISEMENT
SCROLL TO CONTINUE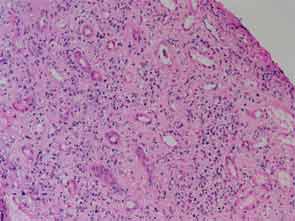 Figure 1: Tubulointerstitial nephritis.
A: Kidney showing a lymphoplasmacytic infiltrate in the renal interstitium. There is also a moderate number of eosinophils (hematoxylin and eosin stain).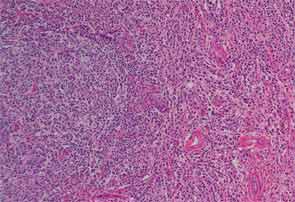 B: Collagen stain (blue) demonstrating fibrosis within the renal interstitium. The fibrosis has a storiform pattern.
ADVERTISEMENT
SCROLL TO CONTINUE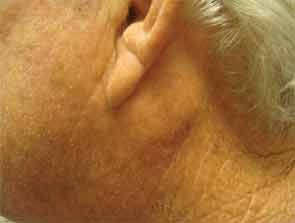 Figure 2: Salivary gland enlargement.
A: Parotid gland. Enlargement in the tail of the left parotid gland.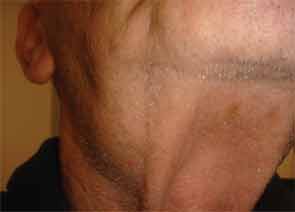 B: Submandibular gland. Enlargement of the right submandibular gland. The left submandibular gland was also enlarged.
Six months later, the patient developed pruritus and jaundice. His serum bilirubin was 7.9 mg/dL (direct 5.1 mg/dL). Other liver function tests are shown in Table 1. An endoscopic retrograde cholangiopancreatogram showed a mildly dilated distal common bile duct but otherwise normal intra- and extrahepatic biliary systems. A liver biopsy revealed only nonspecific findings: a sparse chronic inflammatory infiltrate confined to the portal spaces and preservation of the bile ducts without significant fibrosis, piecemeal necrosis, or iron overload. The cholestasis was attributed to severe papillary stenosis. His cholestasis resolved following papillary sphincterotomy and the placement of pancreatic stents, which were later removed.
ADVERTISEMENT
SCROLL TO CONTINUE
At a follow-up examination two months later, the patient was noted to have diffuse lymphadenopathy, anemia, and an elevated erythrocyte sedimentation rate, raising the possibility of a lymphproliferative disorder. However, a biopsy of an enlarged right axillary lymph node was interpreted as "reactive hyperplasia," with follicular hyperplasia and reactive plasmacytosis. A bone marrow biopsy showed normal hematopoiesis, and there was no evidence of lymphomatous infiltration, myeloma, or intrinsic marrow pathology.
Finally, more than two years after his initial presentation with acute renal dysfunction, recurrent submandibular gland enlargement led to an excisional biopsy. This revealed a Küttner's tumor (see Figure 3).