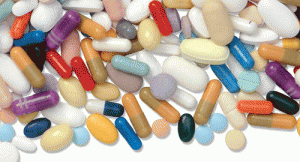 Subcutaneous Abaloparatide for Osteoporosis
Abaloparatide, a new synthetic peptide analog of hPTHrP (human parathyroid hormone-related protein), will soon be submitted for U.S. Food and Drug Administration (FDA) approval.1

[Editor's note: Radius Health announced March 30 that it had submitted an NDA to the FDA for abaloparatide- SC 80 mcg.]
In Phase 3 clinical trials, subcutaneous abaloparatide significantly reduced incidents of vertebral fractures compared with placebo in postmenopausal women with osteoporosis.2 Additionally, the study's secondary endpoints were also met. These endpoints included a statistically significant reduction in fracture rate in the adjudicated non-vertebral fracture subset of patients; a statistically significant reduction in the adjudicated clinical fracture group; and a statistically significant difference in the time to first incident, non-vertebral fracture in both the adjudicated non-vertebral fracture and the clinical fracture subsets of patients. Subcutaneous abaloparatide also achieved statistically significant increases in bone marrow density in the total hip, femoral neck and lumbar spine at Months 6, 12 and 18.
Transdermal abaloparatide is currently in Phase 2 clinical trials as a potential treatment of osteoporosis.
Steroid-Sparing Agent in Phase 2 Trials for Patients with Lupus
XmAb5871 is a first in class monoclonal antibody that targets CD19 and inhibits B cell function via FcγRIIb inhibition.3 In initial clinical trials, XmAb5871 inhibited B cell function without destroying these cells. The treatment demonstrated a promising effect in patients with rheumatoid arthritis (RA) and, potentially, inhibits systemic lupus erythematosus (SLE) B cell activation and humoral immunity.
This Phase 2 lupus study is a randomized, double-blind, placebo-controlled, multiple dose trial using a 1:1 randomization of XmAb5871 vs. placebo (N~90). Patients will discontinue immunosuppressive medications and receive a short intramuscular course of steroids. Then, participants will be randomized to receive placebo or active treatment XmAb5871 every two weeks for up to 12 infusions (six months). They will be examined for disease recurrence. The primary objective is to evaluate XmAb5871's activity in maintaining lupus disease activity improvement. Safety tolerability, pharmacokinetics and pharmacodynamics (i.e., change in biomarkers) and immunogenicity will also be assessed.
---
Michele B. Kaufman, PharmD, CGP, RPh, is a freelance medical writer based in New York City and a pharmacist at New York Presbyterian Lower Manhattan Hospital.
References
Weisman R. Waltham's Radius Health will seek federal OK for osteoporosis drug. Boston Globe. 2016 Mar 6.
Radius Health Inc. Pipeline program status: Investigational drug product candidate Abaloparatide-SC. 2016.
Xencor Inc. News release: Xencor initiates two phase 2 trials of XmAb5871 in IgG4-related disease and systemic lupus erythematosus. 2016 Mar 7.