Abaloparatide for Osteoporosis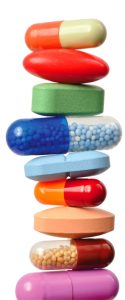 Abaloparatide is completing Phase III clinical trials for the potential treatment of postmenopausal osteoporosis in women who are at an increased risk of fracture.1 Abaloparatide is a synthetic peptide that engages the parathyroid hormone receptor and has favorable bone building activity. Abaloparatide has completed Phase 3 development for use as a daily self-administered injection (abaloparatide-SC). The New Drug Application for abaloparatide-SC was submitted to the U.S. Food and Drug Administration at the end of the first quarter of 2016. The Prescription Drug User Fee Act date of March 30, 2017, has been set for this agent's review.
You Might Also Like
Explore This Issue
October 2016
Also By This Author
Results from the Phase 3 double-blind, randomized, controlled, ACTIVE (Abaloparatide Comparator Trial In Vertebral Endpoints) trial were recently published in the Journal of the American Medical Association.2 This clinical trial enrolled 2,463 patients to evaluate the safety and efficacy of abaloparatide for treating postmenopausal women with osteoporosis. Blinded, daily subcutaneous injections of placebo (n=821), 80 μg abaloparatide (n=824) or 20 μg open-label teriparatide (n=818) were administered for 18 months.
ADVERTISEMENT
SCROLL TO CONTINUE
The study enrolled women with bone mineral density T score ≤−2.5 and >−5.0 at the lumbar spine or femoral neck, and with radiological evidence ≥2 mild or ≥1 moderate lumbar or thoracic vertebral fracture, or a history of a low-trauma, non-vertebral fracture within the prior five years. Additionally, postmenopausal women over 65 years old with fracture criteria and a T score ≤−2.0 and >−5.0, or without fracture criteria and a T score ≤−3.0 and >−5.0, could also enroll. In all, 1,901 women completed the study.
Increases in bone mineral density were greater in the abaloparatide-treated patients than in placebo-treated patients (P<0.001). In addition, the incidence of hypercalcemia was lower in abaloparatide-treated patients (3.4%) compared with teriparatide-treated patients (6.4%). The results of this trial showed that patients treated daily with abaloparatide for 18 months had a significantly greater reduction in the incidence of new vertebral fractures (P<0.001) and non-vertebral fractures (P=0.049) compared with placebo.
ADVERTISEMENT
SCROLL TO CONTINUE
A transdermal formulation of abaloparatide is also being evaluated in clinical trials for potential use as an osteoporosis treatment.1
NICE Draft Guidance
New draft guidance from the National Institute for Health and Care Excellence (NICE) means patients in the U.K. with ankylosing spondylitis will have access to the interleukin (IL) 17A inhibitor, secukinumab (Cosentyx).3 Secukinumab was licensed for use in the U.K. in May and is the first in a new class of drugs to treat the condition. The drug helps reduce inflammation and pain, and improves mobility. It comes in pre-filled pen syringes for self-administration.