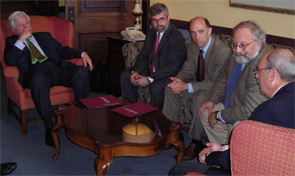 From left to right: Sen. Edward M. Kennedy; Jonathan Kay, MD; Daniel Hal Solomon, MD; Paul Romain, MD; and Neal S. Birnbaum, MD.
ACR Board of Directors members recently spent time in Washington, D.C., discussing rheumatology-related issues with members of Congress, including Sen. Edward M. "Ted" Kennedy (D-Mass.). The senior senator from Massachusetts is the chair of the Senate Health, Education, Labor, and Pensions Committee, which oversees health legislation that affects rheumatologists.
Sen. Kennedy was well informed on issues affecting rheumatologists and their patients. As the original sponsor of the Arthritis Prevention, Control, and Cure Act (S.626/H.R.1283), he supports the ACR on one of its most important legislative priorities. Sen. Kennedy understood each concern the board members raised, could relate to the issue personally, and offered his assistance. The board members from Massachusetts and ACR President Neal S. Birnbaum, MD, were fortunate to spend time and initiate a relationship with Senator Kennedy.

Prior to meeting with members of Congress, ACR board members attended a dinner with keynote speaker Rep. Frank Pallone, Jr. (D-N.J.), chairman of the House Energy and Commerce Subcommittee on Health. Rep. Pallone's committee controls the majority of healthcare legislation in the House. He revealed the congressional healthcare priorities in the House for 2007: Reauthorization of the State Children's Health Insurance Program, which was started in 1997 and is scheduled to end on September 30, 2007; and implementing a temporary fix for the scheduled 10% cut to the Sustainable Growth Rate (SGR).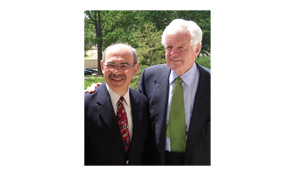 ACR President Neal S. Birnbaum, MD, (left) and Massachusetts Sen. Edward M. Kennedy.
He also shared with the board that the proposed 10% cut to 2008 Medicare payments likely will not be implemented; Congress will pass a temporary fix, with a goal of more comprehensive reform to the SGR (the system that determines Medicare reimbursements) by the end of 2008.
During the Capitol Hill visits, the board of directors along with ACR senior staff met with more than 60 offices to discuss current ACR legislative priorities. Along with urging co-sponsorship of the Arthritis Act and fixing the flawed SGR system, the ACR asked Congress to revoke the Deficit Reduction Act of 2005 that requires cuts for imaging reimbursements (specifically DXA scans) and also to increase funding for National Institutes of Health research programs.
Establishing relationships with members of Congress, like Sen. Kennedy and Rep. Pallone, will continue to increase rheumatology's presence in Washington and allow our voice to be heard.